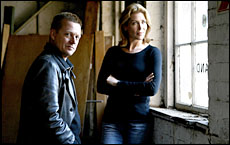 You'd think Martin would have everything a successful, 50-year-old Manhattan architect could desire: a great job, international acclaim, money, and a beautiful wife and a son with whom he lives in a fabulous apartment.
There's just one flaw in this setup: Martin is deeply and sexually in love with Sylvia. Sylvia is not his wife. Sylvia is a goat.
And The Goat or Who Is Sylvia? is a drama by Edward Albee, the taboo-smasher of Virginia Woolf, The Zoo Story and The Play About the Baby fame. It won the Tony Award for Best Play in 2002, and has been staged in New York, with Bill Pullman and Mercedes Ruehl, and in London, with Jonathan Pryce and Kate Fahy.
We get the double treat of husband-and-wife team Michael Hurst and Jennifer Ward-Lealand as Martin and Stevie, on stage together for the first time since they did Cabaret at the Watershed in 1993. Since then they have been juggling work and raising two little boys.
Revealing Sylvia's identity in the opening paragraph is not breaking any secrets - that comes swiftly after Albee's clever setup of the "perfect couple".
"The real 'reveal' comes later," says Hurst, ominously.
Is it a brave thing to do, a real married couple playing a married couple in deep crisis?
"Well, it is a really interesting situation seeing your partner with this new love going through stuff, big stuff," says Ward-Lealand, adding that they "cut it off" when they come home from rehearsals. "It's a portrait of betrayal in a marriage, betrayal at the most shocking level."
Although the play opens with a conversation between a couple seemingly enjoying a rock-solid relationship, when Martin is alone - about to be interviewed for television by Ross, an old friend - he is clearly in trouble. Ross - played by Paul Barrett - senses a problem, thinking "another woman" and pushes Martin to confess. Outrage! And Ross rushes off to tell Stevie.
Bestiality - which we won't see, thankfully - is appalling, but Albee's aim, observes a review in the Observer, is "designed to disturb rather than offend".
"You've got to keep in mind that Albee says he is working towards a new definition of tragedy," says Hurst.
"It's not designed to offend; the play is not about that."
"What is shocking these days?" asks Ward-Lealand. "We are surrounded by appalling, shocking things; we are slightly inured to it. In the realm of things that can happen in a marriage, there are potentials which are horrible but you deal with it. But this is so far out there."
Adds Hurst, "You deal with things - unless you are mad. Generally if a husband leaves a wife for a younger woman, it's horrible but there are ways of dealing with it. What Albee has done in this situation, I say to her, 'I take it you want to talk about it'. Well, how do you talk about something like that?"
"She says, 'I want to hear it all'," says Ward-Lealand. "If I'm going to kill you, I need to know exactly why."
Albee has veto over the casts of his works wherever they are staged, and gave the nod to this pair after examining their CVs.
"He needs to know the actors have done lots of theatre ... made us quite nervous, actually," Hurst admits.
Albee's stage directions are famously structured to give actors guidance but with freedom. "Tears, if any, stop." "Turns a chair over, or whatever." "There is chaos behind the civility, of course."
And Ward-Lealand is required to "howl" - three times.
And the climax, the "real reveal", is probably going to be pretty tough. "It's not a comfortable watch; put it like that," says Hurst.
* A family affair: Michael Hurst talks frankly about his troubled childhood, canvas, Weekend Herald.
What: The Goat or Who Is Sylvia?
Where and when: Silo Theatre, Sep 16-Oct 16
By Linda Herrick

Email

Linda