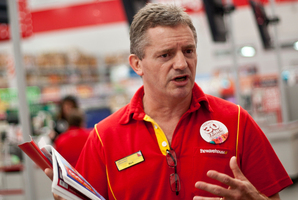 The Warehouse Group does not expect the margin pressure affecting its core Red Sheds business to persist, chief executive Mark Powell says.
At its annual meeting in Auckland yesterday the company said that margin pressure meant adjusted net profit for the first half of its current financial year was expected to fall below the $46.7 million reported for the first half of the previous year.
Previously, New Zealand's biggest listed retailer - which also operates Warehouse Stationery and Noel Leeming - was expecting first-half adjusted net profit to be about the same as the first half of the past year.
Full-year adjusted net profit is still expected to exceed the previous year's $73.7 million, but by less than expected, the company said.
Powell said the Red Sheds had been affected by a mild winter and changes to new ranges of products, including whiteware.
The company is also investing to refurbish Red Sheds stores and boost its online presence.
"You combine that with a systemic decline in CDs and DVDs and it almost became like a combination of issues that led to some margin percentage decline," Powell said.
But he said the company did not expect the margin pressure to continue into the summer. Early signs of Christmas trading had been encouraging, he added.
Wet weather hit margins in the 2011 festive season, when it was left holding excess stock such as apparel. Powell said his hopes were pinned on warm, dry weather continuing through to December 25.
Shares, which have gained about 15 per cent in the past year, closed down 18c, or 4.66 per cent, at $3.68 last night.