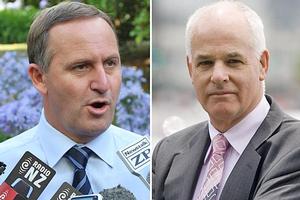 Prime Minister John Key moved swiftly yesterday to stop a new smacking bill going beyond its first reading and reigniting a debate he believed could consume Parliament.
He is confident his move will not be seen as thumbing his nose at the 87.4 per cent of voters in the citizens-initiated referendum who did not support the present smacking law.
By coincidence, a measure legalising smacking was drawn from a ballot of 29 private members' bills yesterday, less than a week after the referendum.
The bill is in the name of Act MP John Boscawen, and its first reading debate and vote are likely to be on September 23.
The present legislation outlaws smacking for punishment or correction but says the police should not prosecute minor transgressions. Mr Boscawen's bill would allow smacking for correction and define the type of force that could be used.
Act's five votes and National's 58 would be enough to send it to a select committee, re-opening the debate that gripped the country in 2007.
But Mr Key talked to a small group of senior advisers and ministers in his Beehive office yesterday before announcing that National would not support the measure.
No other party in Parliament is expected to support it either apart from Act, so it will fail at the first-reading stage.
Mr Key said he wanted the Government's focus to be on economic challenges and a strong recovery.
"I give New Zealanders the absolute assurance that if the law isn't working I will change it and I don't need a member's bill to do that."
The Prime Minister said the present legislation was "not the tidiest piece of law but in practice it is working".
"I want to make sure that New Zealanders understand completely that I take seriously the message that they sent through in the referendum."
He said the referendum told him New Zealand parents had some unease.
It did not ask whether the law should be changed.
"That is a more difficult issue."
Mr Key said on Monday that he had received a message from the referendum, but he would not change the law for fear of it "derailing" and "consuming" Parliament.
Mr Boscawen's bill is modelled on a measure National MP Chester Borrows proposed in 2007.
At that time, Mr Key reached a compromise with then-Prime Minister Helen Clark, Green MP Sue Bradford and United Future leader Peter Dunne.
Mr Boscawen said the people who voted in the referendum had sent a clear message.
His bill was about what he described as the 87 per cent of New Zealanders who had told the Prime Minister and Parliament that they did not think a light smack should be a criminal offence.
"They knew exactly what they were voting for and we owe it to them to listen."
He said Mr Key was making a big mistake to ignore the 87 per cent.
Last night, Mr Borrows, the MP for Whanganui, said he supported Mr Key's decision and had been at the meeting yesterday where the issue was discussed.
He said the present law was working and it allowed for "operational tolerances" by the police.
"There are those tolerances that the police use every day in respect of their discretion. That is what the law does at the moment.
"It might be that the letter of the law is not the way that it is enforced but that is the same with a lot of our laws and the public are usually happy with that.'
* The Boscawen bill
Would allow smacking for the purposes of correcting a child's behaviour.
Defines unreasonable force as force that causes the child to suffer an injury that is "more than transitory and trifling"; is inflicted by any weapon, tool or implement; and is inflicted by cruel or degrading means.
The term "transitory and trifling" is already established in common law to mean force that causes redness for more than a few minutes, or bruising.