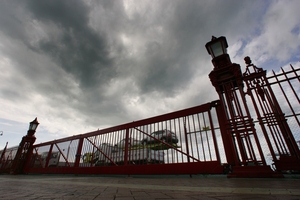 While Aucklanders debate the future of the city's port, work in progress in Wellington may decide its fate. Ministry of Transport officials are working on a National Freight Demand Study, which will give a picture of how freight is being moved around New Zealand. They are also conducting a Port Case Study, which will consider possible future port configurations and assess the effects these would have on domestic freight flow and the economy. On top of all this, they are also developing the Intelligent Transport Systems Strategy, which will, they say, "identify opportunities to use new technologies to bring ... change in areas such as safety, congestion, and the efficient use of infrastructure".
Fully loaded
The political and investment wisdom of the National Party's $2.2 million purchase of a government-owned mansion in Thorndon, near Parliament, may be questionable. But what is terrifying for its political opponents is that National and/or its supporters can raise that sort of cash for a new headquarters, and what such financial firepower could mean for next year's election campaign.
Buried treasure
The Cook Islands plans to leap into the rich-country league, the Guardian reports, by mining deep-sea minerals. At the world's first deep-sea mining conference in London last week, Cooks Finance Minister Mark Brown said it would be about five years before mining started, using underwater robots to collect nodules rich in manganese, nickel, copper, cobalt and rare earth minerals.
Punishment
Whether deliberate or unconscious, the heading on a BusinessNZ press release, about the Government's earthquake-prone buildings policy, takes the prize for bad pun of the week: "Earthquake building policy faulted."
Upward mobility
The promotion of two MPs to the position of parliamentary private secretary is being seen around Parliament as a reward for their hard work and a way to keep their ministerial aspirations under control. Both are also women from the South Island, which helps with some of National's regional and gender imbalances. Christchurch Central MP Nicky Wagner becomes parliamentary private secretary to Gerry Brownlee in the Canterbury Earthquake Recovery portfolio and also to Nick Smith in Conservation. Waitaki MP Jacqui Dean will assist Chris Tremain in Local Government and Prime Minister John Key in Tourism. Parliamentary private secretaries are MPs appointed to assist ministers but, unlike under-secretaries, they are not part of the Executive and get no extra money.
Moving on
The revolving door in Education Minister Hekia Parata's office continues to spin. In the latest move, her press secretary, Julie Ash, is shifting upstairs to the Prime Minister's office as a replacement for Jane Fraser-Jones, who has moved into the policy side of things in the PM's office.
Adding to the damage
Fonterra boss Theo Spierings added insult to injury with his damage-control efforts in Beijing this week. Spierings told a press conference that Fonterra was devoted to "food safety and the safety of the people of the Republic of China ..." But, as the Bloomberg Businessweek news service noted, the proper name for the big country that takes so much of our dairy produce is the People's Republic of China. The plain old Republic of China is the official name of Taiwan - a country with which the leadership in Beijing has a decidedly chilly relationship.
Dream on ...
A survey on salary rise expectations illustrates the triumph of hope over experience. The annual Hays Salary Guide reveals that more than one in five workers (23 per cent) expect a rise of more than 6 per cent, yet only 4 per cent of employers plan increases that big. Overall, 76 per cent of employers plan a 0-3 per cent rise, and 20 per cent are thinking of 3-6 per cent. Among workers, 53 per cent expect a 0-3 per cent pay rise, and 24 per cent expect 3-6 per cent.
High flyer
This week's visit of Britain's Speaker of the House of Commons, John Bercow, was not without its irony. Before his arrival in New Zealand he made headlines in Britain for claiming 100,000 ($194,000) in travel and accommodation expenses in the past three years. The costs included 63,000 on flights around the world for Bercow and his aides, not including his New Zealand sojourn. Bercow might have been able to offer some lessons to his local counterpart, David Carter, in handling misbehaving MPs, as he has gained quite a reputation for his rough and dismissive treatment of MPs he has little time for.