Sir Colin Meads among celebrities in Lynskey movie debut.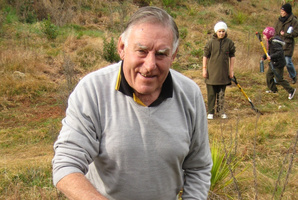 Her big sister is a Hollywood actress, but aspiring producer Millie Lynskey is stepping into the movie business with a short film starring rugby great Sir Colin Meads and a handful of Kiwi celebrities.
A Kiwi Legend, about New Zealand's No 8 wire mentality and our national identity, is one of 16 finalists which will screen at the Tropfest New Zealand short film competition at New Plymouth's TSB Bowl on Sunday.
The seven-minute film is produced by Lynskey and her friend Tess Novak, who also wrote the script and directed it.
Novak told The Diary the celebrity cameos add another dimension to the mockumentary.
"It's great because everyone is taking the mickey out of themselves."
Meads joins Two and a Half Men star Melanie Lynskey, Olympian Val Adams and fashion designer Denise L'Estrange-Corbet, who all play themselves.
But the 22-year-old filmmaker is reluctant to divulge which other celebrity actors have taken part.
"I don't want to spoil the surprise on Sunday," Novak teased.
Meads, aka Pinetree, is no stranger to starring as himself in television commercials and advertising endorsements. But he told The Diary he had fun filming this cameo role.
"They were lovely young people. They rang me up and asked if they could film me parading around on the farm. They filmed me for about half a day ... filming me wearing my gumboots, opening the gates. There were directions, you know."
Sir Colin said he won't be able to see his short film debut in New Plymouth on Sunday. "Unfortunately I can't go, but I wish them well. They were really genuine young people, trying hard."
The 16 short films will screen on Sunday and the best actor and actress across the festival will be named. L'Estrange-Corbet is not-so-secretly hoping her name will ring out. "Move over Helen Mirren," she chortled. Sir Colin was a bit more humble. "Best actor? No, no, that's not my scene," he roared with laughter.
The Tropfest competition is the world's largest short film festival, but it will make its debut in New Zealand this weekend.
The festival has attracted big names as ambassadors, such as Taika Waititi, Vincent Ward, Sam Neill, Martin Henderson, Katie Wolfe and John Barnett from South Pacific Pictures.
Lynskey and Novak's contribution is sure to score headlines, thanks to the line-up of stars who have donated their time to the project.
It's a coup for the young Kiwi filmmakers to get celebrities of such calibre to endorse their film and poke fun at themselves.
Millie isn't the only Lynskey attracting attention in Taranaki this week. Her brother Tom, 24, has returned from a 12-day, 2500km cycle from Bluff to Cape Reinga to raise money and awareness for Youthline. Big sis Melanie took to Twitter to gush proudly about her siblings.
Celebrity chef cook-off for charity
MasterChef judge Josh Emett joined six of Auckland's top chefs at a fundraising lunch on Sunday to raise money for the Westpac Rescue Helicopter and its operation in the Hauraki Gulf islands.
The second annual Man O'War Summer Lunch at the Waiheke vineyard raised more than $160,000 for the rescue service. Guests enjoyed a degustation menu by chefs from The Grove, Tribeca, Euro, The Commons and The Foodstore, matched with Man O'War wines.
Self-professed Waihitian John Hawkesby played MC and a small charity auction was held, which included dinner with Sir Ralph Norris and dates offered by Sir Graham Henry and Sir Peter Leitch, who both have homes on the island.
A rep for the Auckland Rescue Helicopter Trust says the lunch "is the most important annual fundraiser for the helicopter service".
But for Matt Allen, Man O'War vineyard manager, it's a way for the Waiheke community to give back to the service they rely on.
Allen lives at the remote eastern end of the island and has had to call on the rescue helicopter for family and colleagues.
"A staff member had a heart attack at 2am, another suffered a serious burn, and my daughter had an asthma attack on her first birthday. It was a stressful mercy dash to hospital. She's 10 now, but I don't know what we'd have done without the rescue chopper."
Sheikh, rattle and roll the big money
The international glitterati of thoroughbred racing will be in town this weekend for our richest horse race, the Karaka Million, and the National Yearling Sales.
Representatives for His Highness Sheikh Mohammed bin Rashid Al Maktoum, ruler of the United Arab Emirates, will be here. As will Aussie trainers Gai Waterhouse, Bart Cummings and Chris Waller and his glamorous expat Kiwi wife Stephanie.
The Karaka Million at Ellerslie Racecourse on Sunday has a prize pool of $1 million, but that's small change compared to the money that will be exchanged at the famed Karaka Yearling Sales, which start the following day.
Organisers say last year's auction turned over $77 million and attracted buyers from Europe, Asia and the Middle East.
Sir Owen Glenn, Winston Peters, Kylie Bax, Sir Colin Meads and Eric Watson have been known to frequent it, but it's the international squillionaire set that get vendors' hearts racing. Many fly in by private jet and then chopper to the sales.
Some bring personal butlers and maids; money is no object.
David Ellis, owner of Te Akau Racing, who was ranked by the Herald this week as the 23rd most influential sports powerbroker, is considered the dominant buyer at the sales, making outlays of more than $45 million.
The Karaka Million stipulates horses bought at the yearling sales the previous year can enter the race.
That means horses snapped up for $10,000 have the chance to race against those bought for several times that. It's an underdog's opportunity.
However, a yearling purchased by Ellis last year for $1.75 million is eligible for entry.