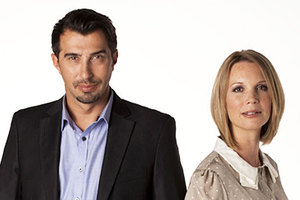 Brooke Howard-Smith will be joined by Carly Flynn on the consumer series Target, which returns to TV3 on April 3. Flynn replaces Jeanette Thomas, who moved to TVNZ to front Good Morning.
"As a journalist, mum and small business owner, I've seen the impact that bad business experiences have on consumers - and how hard it can be for ordinary people to get things put right," Flynn said.
The Companies Office website lists the former Nightline anchor as a shareholder of In Like Flynn Productions with her husband, Dave.
Meanwhile, singer/songwriter Carly Binding is making a comeback, too.
The former True Bliss star, who has a toddler son with partner Matthew Ridge, told The Diary she will be starring in the one-woman show Tell Me on a Sunday at the Q Theatre in August.
STAR MAKES SECRET SWITCH TO TV RIVAL
Mark Richardson, star of Prime TV's The Crowd Goes Wild, is set to host TV3's upcoming The Block NZ - and we understand this has caused tensions with his current employer.
Sources close to the former Black Cap said: "Yes, he is committed to doing the show and contract discussions are under way."
TV3 has stayed cagey on whether Richardson, 40, is fronting The Block NZ, saying it's too early to announce who the presenter is.
However, a network insider said: "I believe he will do it."
Richardson told The Diary: "I can't say anything about that, I'm sorry."
Insiders say Richardson's switch to rival TV3 for the reality show has caused some issues with his bosses at Sky-owned Prime.
"Like all networks they don't want their stars working on shows that appear on rival television stations," a source said.
Richardson says he will continue to front The Crowd Goes Wild.
"It's the number one priority for me. It's an amazing primetime show that's survived six years," he said.
His switch to TV3, albeit temporarily, would illustrate the need for networks to tie down their top talent.
TV3 is expecting big ratings for The Block NZ. Casting calls are under way for the show, which will pit four couples against each other as they renovate four dilapidated houses and sell them at auction for the highest price.
"In this country, renovation is a national sport, second only to rugby, and I'm looking forward to seeing who puts their hand up for what will be the biggest show of the year," said MediaWorks director of programming Kelly Martin.
The Block NZ, produced by Julie Christie's Eyeworks Television, is part of a successful international reality format. In Australia, where the show began, it remains the highest-rated TV series of all time.
The New Zealand version will screen this year.
INFLUENTIAL FLOCK TO BOTSWANA BUTCHERY
Wednesday night was a rent-a-celeb free-zone at the opening of Botswana Butchery - formerly Cin Cin - on Quay St. The famous Queenstown eatery (and favourite of Sir Peter Jackson) is now also in Auckland.
There were no famous-for-the-sake-of-being-famous people at the party. Instead, Al Spary and his team at the Good Group invited Aucklanders of significant influence.
The only thing flowing more than the Moet was the queue to get in the door. One guest of the Rich List persuasion told me he hadn't seen the venue so full "since the 90s". It was a wonderful night to welcome in a new Viaduct lunch spot and watering hole.
KAHUI MARCHES TO DIFFERENT BEAT
As rumours circulate about how little Chiefs players Richard Kahui and Sonny Bill Williams really regard each other, the midfield back hit YouTube again with a new spoof video.
Kahui has filmed another satirical clip as an anchorman for the fictional news network, this time dubbed the "CNNN Network" (Chief News Network Now). "We've changed from CNN due to copyright laws," he said.
The video profiles Waikato's Militaires, a marching girls group who competed at the national champs in Hamilton last weekend. "Is it just a coincidence the marching champs are in March?" he deadpans.
Kahui enlists Chiefs players Scott Waldrom and Sona Taumalolo to liven up a marching session. They don fatigues, semi-automatic weapons and a propensity for highly animated combat training.
SHORTY PREPARES FOR FAMILIAR FACES
Shortland Street is shooting scenes for the 20th anniversary episodes, due to air in May.
The birthday is May 25 and producers have marked the milestone with a nostalgic episode involving a party with current cast members donning old uniforms.
Think nurse Tiffany Pratt Warner Marinovich in apricot and director of nursing Carrie Burton in blue.
Some old faces from the past are expected to make appearances on the show this year, though producers are staying hush-hush at this stage. The Diary understands contracts are being locked down and are dependent on the actors' availability.
This week, Temuera Morrison - who played Dr Ropata - began shooting scenes for the feature film Mt Zion. He plays the father of a young musician from Pukekohe whose band wants to be the support act for Bob Marley's 1979 concert in Auckland.
Australian Idol winner Stan Walker plays the lead; Miriama Smith also stars.
"Mt Zion film, spuds, bros and reggae," Morrison tweeted succinctly on Wednesday.
Walker was a little more forthcoming: "Filming past 1am every night. Shux I gota do this 4 another 2 months."