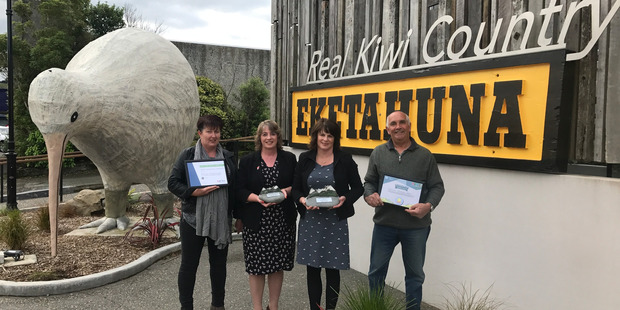 Winning two national awards has created a real buzz in Eketahuna.
The changing face of Eketahuna with its $430,000, four-stage upgrade project has won the Eketahuna Community Board the top award at the Local Government New Zealand 2017 conference.
The board won the enhancing communities award and the supreme winners award.
"This was neat for Eketahuna and our district," Eketahuna Community Board chairman Charlie Death said.
"We received great support from the Tararua District Council, and hopefully others in the district and other community boards can share and learn from our success."
Mr Death said community board members visited Dannevirke and Woodville early in their street upgrade project, walking the streets to gain an understanding of what the other two communities had achieved and where their focus had been.
So what is next for the Eketahuna Community Board?
"We are looking forward to the completion of the library corner and watching our town grow," Mr Death said.
Community board member Sharon Shannon, who led the Eketahuna upgrade project, was very proud the town had received two national awards.
"Our objective was to ensure our community was engaged and on this wonderful journey of the main street upgrade alongside the community board and district council.
"To receive the engaging communities award shows we achieved that objective and that the community of Eketahuna really care about what is happening in their town and that small rural communities can shine on the national stage."
More than 200 representatives from community boards and similar organisations attended the national conference in Methven with the Eketahuna representatives humbled, but proud when they were announced the supreme winners of the engaging communities award.
Eketahuna went up against 11 other community boards for their award and Tararua District Mayor Tracey Collis acknowledged a lot of work had gone into preparing for something like this.
"There was such tough competition."
Mrs Collis said she hadn't expected Eketahuna to take the win, but acknowledged the town upgrade project had been a huge catalyst for change in the community.
"And they did it their way."