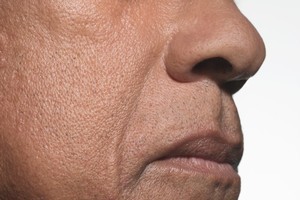 Early detection is one of the best weapons against cancer and an artificial nose device called NA-NOSE is accurately sniffing out cancer molecules on the breath of sufferers of head, neck and lung forms of the disease.
It's Texan ingenuity that lies behind this biosensor for pancreatitis. It is simply constructed from milk and gelatine proteins, a foil wrapper, an LED light and a few other cheaply sourced components. If the LED lights up within the hour that follows the application of a droplet of blood to the sensor, it's an indication that the patient has the disease.
Ebola is a pretty terrifying virus. With a 90 per cent death rate attributed to some strains and symptoms such as bleeding from the eyes and internal organs, any news of progress in preventing it is welcome. Fortunately, researchers have developed an antibody, which blocks the TIM-1 protein, found in mucosal parts of the body, that acts as a receptor for the Ebola virus.