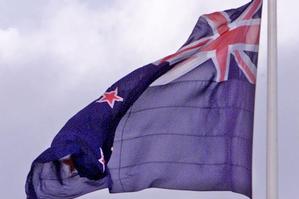 There has been a lot of debate of late about our flag. Many believe we should keep what we have, while others with too much time feel we need something new, something that best reflects "New Zealand of today", whatever that means.
Personally, I think it is all a waste of time, energy and cotton, but if we are going to change it, I think we had better make damn sure the change is worthwhile, and benefits the country as a whole.
So, with this in mind, I propose that rather than spending months, if not years, debating the colours and design of the new flag, we should cut to the chase by simply running with a blank cloth featuring a bold website address.
Our flag should be a URL that sends people straight to the New Zealand Tourism Board's website, and links to various different travel agency-type businesses.
The details of where the URL links to would be better decided by somebody more qualified than myself, but few could argue that nothing better reflects the modern times than a website, and what better way to get people to associate our flag with our nation?
Under this new flag, when our athletes do well at the Olympics they can take pride in the fact that their achievements have quite literally raised awareness of New Zealand as a country, and more importantly they would have been directly responsible for increasing the number of tourists to our country.
The amount of "new" hits to the site because of their achievements would be easily identified. Because these hits equate to cash, the athlete should be rewarded with a percentage of that income.
In a sense, we would be putting all our athletes on commission because the more times they got to wave the flag, the more they would be rewarded.
As a small country, we have struggled to adequately reward and support our athletes in the past, so this is an ideal way to address the shortfall in funding. One has to also remember that the flag is raised at international junior and youth sporting events - not just the Olympics and the Commonwealth Games.
But it won't just be athletes doing their bit. Overnight, the country will become more patriotic.
Bands touring overseas would be flying the flag during their performances and even people on their big OE would be encouraged to take a flag with them because, if any fresh hits to the site converted into actual tourism dollars, they would be entitled to a percentage of the revenue.
This could be easily managed by visitors to the website being asked in a brief questionnaire where they saw the URL. Was it while watching Valerie Vili accept her gold medal at the Beijing Olympics? Or was it on a New Zealand tourist's backpack as he wandered through Victoria train station in London?
By being the first country in the world to have a website as a flag we would once again be pioneers, unafraid of change, just like we were the first to give women the vote.
Others may laugh at us initially but the fact is - like it or not - our "new" flag will have a very real purpose and I believe, in time, we will become emotionally attached to it.
If you can become emotionally attached to the present flag or any of the proposed replacements you can become emotionally attached to anything. I propose a flag that is simple, all-encompassing and logical and my URL flag ticks all the boxes.
So, let's go with something along the lines of www.NewZealand.com.
Dear Leigh: That wasn't very funny! I thought you were supposed to be humorous!
Troy in Penrose
Troy: You can get $##@#. I felt like writing something from the heart for a change so grow up and please don't write in again while I am manning the feedback desk.
Leigh