The managers of shopping centres, arenas and other public sites are being urged to prepare for attacks and deter would-be assailants with physical and electronic security measures.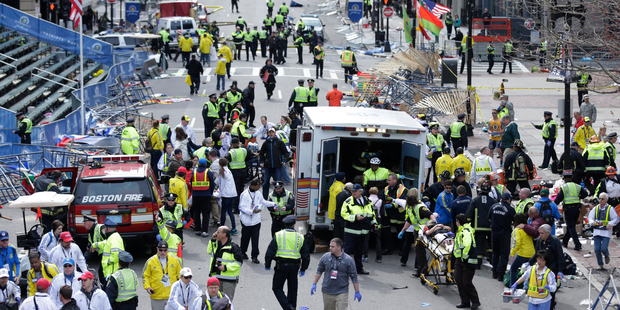 Australian counter-terrorism agencies have warned universities, shopping centres, sporting arenas, transport hubs and other venues to prepare for mass killers.
Citing massacres overseas and in Australia, the Australia-New Zealand Counter-Terrorism Committee yesterday spelled out its concerns in guidelines to help prepare for the worst.
"Such facilities not only present potential opportunities for mass casualties, symbolic attacks and high-impact media coverage, but pose a broad range of security challenges for their owners and operators," said Attorney-General Mark Dreyfus.
The guidelines, incorporating experience from Europe and the United States, spell out the plans venue owners should make and the actions needed in the first, fast-breaking moments of an attack.
They warn that large venues have been specifically identified as attractive targets for religious and political extremists, and for "disgruntled or mentally impaired individuals".
They say that terrorist propaganda also continues to promote stand-alone attacks, encouraging adherents based in Western countries to conduct attacks at home rather than travel to foreign conflict zones.
The guidelines say that last April's Boston Marathon bombings showed the reality of home-grown terrorism.
The bombings and shootings by Anders Breivik in Norway, killing 77 people, further demonstrated that terror attacks could escape the vigilance of security agencies and occur without warning.
"It is also a reminder that although al-Qaeda, its affiliates and Islamist extremists supportive of its ideology continue to pose a significant threat to Australia, attacks may also be inspired by a non-Islamist ideology and be driven by local issues," the guidelines say. In Australia former army officer cadet Julian Knight killed seven people and injured 19 others in a bloody 30 minutes in Hoddle St, Melbourne, in 1987, the same year failed law student Frank Vitkovic shot nine dead and wounded five in Melbourne's Queen St.
In Tasmania, 28-year-old loner Martin Bryant killed 35 people and wounded a further 23 at the ruins of the colonial prison at Port Arthur.
The guidelines say planning is needed because of the speed of an attack.
Most mass killers will try to kill as many victims as they can in as short a time as possible, with most massacres developing rapidly and often ending within 10 or 15 minutes.
The guidelines say that because mass killers need freedom of movement and access to victims, contingency plans need measures to shut them down quickly, restricting their movement, getting people to safety, blocking others from entering the area, and helping police to find and isolate the shooter.
Would-be shooters need to be deterred by physical and electronic security measures.
Australia on alert
*People should hide and then attempt to escape while remaining sheltered behind objects such as walls, vehicles or trees.
*Taking physical action against the gunman should be considered only if neither evacuating nor hiding is an option.
*Businesses need to organise evacuations, contain the threat and help with investigations.