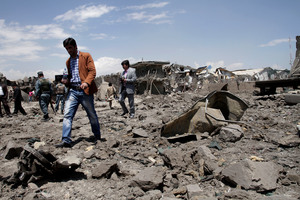 In Kabul, many streets have no name and houses often have no number, meaning postmen already braving the constant threat of suicide bombings must play detective to deliver mail.
Mohammad Rahim does his rounds on the tattered, hilly streets of the Afghan capital on an old bicycle. After 10 years on the job he is undaunted by even the vaguest addresses on letters.
"Here we have a letter for a man who lives near Dr Hashmat's house," Rahim says.
His only clues are the addressee, Mohammad Naeem, the doctor's name and instructions on the back of the envelope saying "Kart-e-Sakhi hilltop, behind the Agricultural Ministry".
Wearing a black fur hat, blue jeans and a violet T-shirt, the 46-year-old postman is a familiar figure and is often recognised by Kabul residents. He sets off from the neighbourhood post office to start asking people for help.
"Brother, can you tell me - where is Dr Hashmat's house?" Rahim shouts at a shopkeeper.
"Go up the hill, and turn right," comes the reply, so Rahim sets off up the rocky road. Further on, another man tells him: "Turn right and it is the third house on the left."
A woman in her 40s comes out to the gate: Mohammad Naeem's wife, who takes the letter for her husband.
"We have received letters from the US, Canada, Germany and Pakistan, and the postman always brings them safely and on time," she says.
Rahim delivers dozens of letters every day across west and southwest Kabul, a city reduced almost to ruins in the brutal 1992-96 civil war.
The population has swollen to five million as people have flooded in seeking work and an escape from the fight against the Taleban, but much of the expansion is illegal, with many houses and shacks built on contested land or without planning permission.
But the days of confusion over addresses could soon be over, as last month the Communications Ministry signed an agreement with the city authorities to create a comprehensive new address system.
All streets and houses will be coded, numbered and mapped in a two-year project that the Government hopes to expand to other cities.
The scheme - which will use global positioning system (GPS) surveying - should help Rahim and fellow postmen such as Khan Agha, 42, who works in the central Shar-e-Naw district.
For now Agha, who first started delivering mail 22 years ago, says the chaotic street mapping makes it "the most difficult job in the world".
"We don't care about traffic, summer or winter, smog or rain but there are many vague addresses, though a telephone number on the back of the envelope can help," he says.
The job is even more challenging for Agha, who lost his right eye as a soldier more than 20 years ago, another victim of the fighting that has battered Afghanistan for decades.
The work is not well-rewarded in Afghanistan, which has 900 postmen nationwide with 100 in Kabul.
Agha earns just 5000 afghanis ($115) a month - barely enough, he says, to feed his family of eight.
But he is hopeful that soon most streets and houses in Kabul will have a proper name and number. "This is a good move by ministry."
- AFP