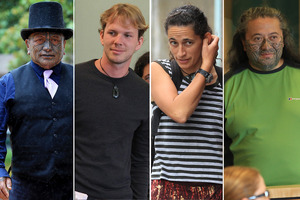 Police are refusing to apologise about the Urewera raids ahead of an investigation into their conduct being released.
Police Commissioner Peter Marshall said he was sorry that innocent people were "frightened and inconvenienced'' but police had to act on information.
"We were placed in an unenviable position by a group of individuals, including the four who were sentenced on firearms charges this morning, whose activities were causing grave concern. We had no option but to act in the interests of public safety.''
He said police had to be careful because they were dealing with people with military-style weapons.
Maori Party co-leader and Associate Corrections Minister Pita Sharples called the court action "a travesty of justice''.
"The whole idea of going in like stormtroopers with all the gear on, and frightening the hell out of the community, is just wrong.''
A number of complaints have been laid against the police raids which took place in October, 2007.
Independent Police Conduct Authority chairman Sir David Carruthers said it was waiting for police to respond to some issues in the report.
"The report is very near to completion and the authority wants to make it public as soon as reasonably possible.''
Tame Iti and his "lieutenant'' Te Rangikaiwhiria Kemara were sentenced to two and a half years in prison today for firearms charges relating to military style training camps.
Iti was led from the dock in the High Court at Auckland by security guards after what started as a gentle waiata became an impromptu haka.
Urs Signer and Emily Bailey were found to have played a lesser role and were sentenced to nine months' home detention, pending a report from Probation that will examine whether their home at Parihaka in Taranaki is suitable.
Crown prosecutor Ross Burns had asked for a jail sentence for all four accused who were members of a group "preparing for serious violent offences''.
Defence lawyers argued that their clients should be discharged without conviction or that they should receive sentences of home detention or community detention.
Justice Rodney Hansen said the only appropriate sentence could be one of jail. He described the rama or camps where people were trained in military exercises.
While defence lawyers had said the camps had been opportunities to learn bushcraft and skills to get security work, Justice Hansen said the jury rejected those explanations.
"In my view, they were utterly implausible.''
He said it was a mystery why Iti had devoted so much time and money to developing "military capability'' when he had been actively involved in Tuhoe negotiations before the Waitangi Tribunal.
He said while there were elements of the TV comedy show Dad's Army about the training, the intent was serious.
"As I view the evidence, in effect a private militia was being established. Whatever the justification, that is a frightening prospect in our society, undermining of our democratic institutions and anathema to our way of life.''
He said the actions had damaged the "growing but fragile'' trust between the Crown and Tuhoe that goes back to armed conflict in the 19th century.
Justice Hansen said there had been a focus on the damage done by the police raids in the Tuhoe region in October, 2007.
"That should not divert attention from the unlawful activities which necessitated the investigation in the first place.''
In sentencing, Justice Hansen took time off Iti's sentence to recognise the work he had done in the community with young Tuhoe. He also recognised the time spent in custody and on parole, as well as the five years of uncertainty the four had lived under while their case came to trial.
However, before he could finish, a haka erupted from the packed public gallery. Iti joined in from the dock and after Justice Hansen stood and left the courtroom, security guards forced Iti out of the dock and into the cells.
Outside court, Iti's lawyer Russell Fairbrother and Kemara's lawyer Jeremy Bioletti said appeals would be filed.
Mr Bioletti said the key question on appeal would be whether the legality of police surveillance footage should have been taken into account during sentencing.
Mr Fairbrother said his client was philosophical.
"It's probably the end of the beginning. There's a long way to go ... Tame is in his normal good humour. He knows the risks.''
Mr Burns said it had been a long journey and the justice system had acquitted itself.
"The outcome is one that every New Zealander should be proud of.''
A short time later Bailey and her partner Signer were led away from court to a lament from a kuia. Both declined to answer questions from the media.
- additional reporting Matthew Backhouse
- APNZ