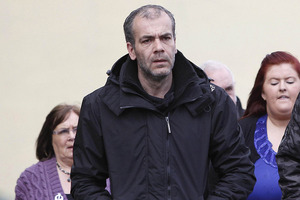 Seven suspects appeared in two Northern Ireland courts yesterday to face charges that included directing acts of terrorism, after one of the biggest security operations involving MI5 (the British national security service) and police against republican paramilitaries since the IRA's 1994 ceasefire.
In one court case in Omagh, it was claimed that four alleged dissident republicans were linked to a terrorist training camp in Tyrone.
A detective from the Police Service of Northern Ireland (PSNI) told the court there was evidence connecting the four accused to a secret firing range near Formil Wood.
Among those in court was Sean Kelly, a former IRA prisoner freed early under the terms of the 1998 Good Friday agreement. He and a woman arrested in the MI5-PSNI operation were both charged with directing acts of terrorism.
The non-jury trial revealed the extent of the security forces' covert monitoring of the suspects using electronic surveillance.
The PSNI detective revealed that conversations had been recorded between another of the accused, Sharon Rafferty, and Kelly from 2011 until last month, in which they discussed targeting police officers and prison officers, firearms training, recruiting, acquiring firearms, and arranging finance.
The detective said the pair had been recorded discussing the power of a .22 rifle on a human, as well as "army business" and "active service units".
The other accused are Terence Aidan Coney and Gavin Coney, both from Omagh. All four are alleged to be linked via DNA traces to bullet casings and other material found at the firing range.
The court was told that about 200 rounds were heard being fired at the site on March 30 and bullet casings had been recovered from the area. The PSNI officer giving evidence said Gavin Coney's house had been searched and balaclavas, rubber gloves and four sets of waterproof clothing had been found.
During seven days of questioning, the four had refused to speak. They were remanded into custody although Rafferty, a 37-year-old single mother, tried to apply for bail. The four will appear again via videolink from prison in Omagh court on Wednesday.
The case heard in Omagh is linked to a parallel court case in Antrim yesterday, where a cousin of prominent republican Colin Duffy faced charges of directing acts of terrorism after the security operation.
Flanked by armed police inside Lisburn magistrates court, Paul John Duffy, 47, was charged with directing a terrorist organisation.
Appearing alongside him were his brother Damien, 42, and cousin Shane, 41.
All three were charged with collecting information likely to be of use to terrorists, conspiracy to murder and conspiring to cause an explosion. A PSNI detective said he could connect the three to the charges.
Colin Duffy, who was cleared of murdering two British soldiers outside Massereene Barracks in Antrim town three years ago, was in court along with 20 other supporters of the accused.
- Observer