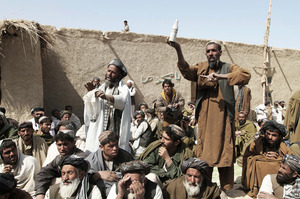 Taleban militants yesterday attacked an Afghan delegation sent by Hamid Karzai to carry out an inquiry into the alleged massacre of 16 Afghans by a United States soldier in Kandahar. The attacks came as the insurgents vowed to behead US soldiers in response to the killings.
The delegation - which included two of President Karzai's brothers - had offered prayers at a mosque in Zangabad, where some of the victims of Sunday's attacks came from. As they were distributing money to the victim's families, Qayoom Karzai and Shah Wali Karzai as well as several other high profile officials came under small-arms fire. One Afghan National Army soldier died and one civilian was wounded in the assault. Three Taleban fighters were also injured.
Afghan army soldiers and policemen returned fire for about 10 minutes. The delegates were unhurt, according to a government spokesman. The Karzai brothers had left the scene for a meeting in Kandahar City minutes before the attack started, he added.
The attack was the first notable violence since the unnamed soldier was arrested after going off base on Sunday and, seemingly at random, breaking into houses and shooting people. The final death toll included nine children.
The region has traditionally been a stronghold of the Taleban, whose movement originated in Kandahar province. US Marines fought hard to wrestle control of the area from militants. In a statement emailed to reporters yesterday, Taleban spokesman Zabihullah Mujahid warned the US that the group was preparing to "cut off the heads of your murderous sadistic troops in every corner of the country in revenge for the martyrdom of every single Afghan".
In eastern Jalalabad, hundreds of students shouted "Death to America" and "Death to Obama" and reportedly burnt an effigy of the US President.
The US has been eager to express its remorse for Sunday's shootings. President Obama yesterday said he was "heartbroken" in the latest attempt to assuage Afghan anger.
- Independent