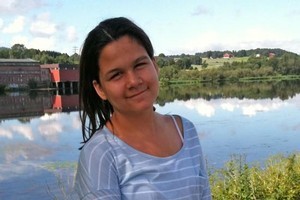 Former Norway PM speaks at funeral for youngest victim of island massacre.
"Spread your wings and fly, my beautiful angel." That was the message yesterday from the New Zealand mother of the youngest victim of Norway's Utoya Island massacre.
White-clad mourners made their way up the steps of a church in central Norway yesterday, scattering red roses over the steps, as a symbol of love and labour.
Inside, 14-year-old Sharidyn Meegan Ngahiwi Svebakk-Bohn lay in a white casket, covered with a Maori feather cloak.
Sharidyn dreamed of becoming prime minister, said her mother Vanessa Svebakk, formerly of Palmerston North.
Just hours before her death, New Zealand-born Sharidyn met Norway's first woman prime minister, Gro Harlem Brundtland.
Yesterday, Brundtland spoke at the girl's funeral.
Brundtland had been Anders Behring Breivik's primary target in the July 22 massacre - but she had just left the island.
Brundtland spoke of her sadness that Sharidyn's dreams had been torn from her.
"A day filled with enthusiasm and joy was quickly turned into something terrible, unreal and meaningless," said Brundtland.
Svebakk spoke more to her oldest daughter, lying in the casket, than to the sobbing mourners. "To lose you is the worst thing that has ever happened to me," she said.
"I miss you every day. Spread your wings and fly, my beautiful angel. We love you."
Svebakk said her daughter was loyal, caring, courageous and, tragically, an innocent victim of terror.
"How can we say goodbye to one of God's most beautiful?" Svebakk asked.
"You always stood out in a crowd and you knew early what you wanted to do.
"Your father and I often said you'd be prime minister in your own country one day. No dream was impossible for you."
As well, Auckland man Steven Hill yesterday posted a moving tribute to his Norway-born wife Ida Hill, who died in the Oslo blast.
She was "my love, my sweety, my wife and best friend" he wrote in a death notice in the New Zealand Herald.
The 34-year-old's funeral will be held at Grue Church, Norway, on Tuesday.
- DRAMMENS TIDENDE