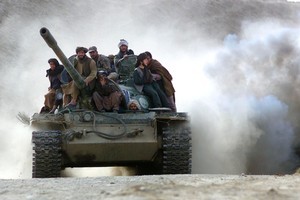 Eighty-five al-Qaeda suspects went on trial in a special Saudi security court on Sunday in connection with deadly attacks carried out in the kingdom, state news agency SPA said.
The defendants face charges of belonging to al-Qaeda, of taking part in attacks on public buildings and residential compounds, and of smuggling and possession of weapons, it said.
Thirteen of the group are accused of participating in the May 2003 car bombings of three residential compounds that left 129 people dead or wounded, including women and children, SPA said.
Nine US nationals were among 35 of those killed.
SPA said the arrests of the 85 suspects had foiled plots to attack two air bases, a residential compound in the Eastern Province of the Gulf state and on state oil giant Aramco.
In April, a judicial source said a total of 5,080 terrorist suspects either faced trial or had already been tried before the special court which has come in for criticism from lawyers.
- AFP