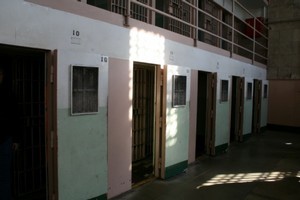 A chilling warning of renewed terror attacks and the emergence of "freelance" killers from Indonesian jails has come in a new report by Australia's Strategic Policy Institute.
It warns that Western intelligence focus on the structure of organisations such as Jemaah Islamiah could be misplaced, with a weakening of the importance of affiliations to terror groups.
The report, written by Carl Ungerer, a former intelligence analyst and director of the institute's national security programme, said prisoners interviewed in a year-long study claimed they served only causes they deemed legitimate, rather than specific organisations or individuals. But the men, describing themselves as "freelance jihadists", also said they were prepared to join forces with any like-minded organisation when needed.
The report, a joint project with Singapore's Centre of Excellence for National Security, is the first detailed study of both the former leadership and the footsoldiers of the JI organisation in prison, and included interviews with more than 30 convicted terrorists.
It described Indonesian prisons as terrorism incubators, in which jihadists often lived in the same blocks and mingled freely, making new contacts and in some places forming "shadow governments" to run jails.
The report identified recidivism rates as a growing problem, with convicted terrorists completing their sentences and leaving jail to return to their old networks. It gave as an example last year's discovery by Indonesian counter-terrorism police of the Lintas Tandzim Project, an Islamist group operating in Aceh whose members planned to carry out political assassinations and Mumbai-style terrorist attacks in Jakarta. A spate of violent robberies, reportedly to fund terrorist activities, later took place across northern Sumatra.
The report said subsequent attacks targeting police culminated in an assault by a dozen masked gunmen on a police station at Hamparan Perak last September, killing three officers.
The report pointed to the "worrying aspect" that recidivists appeared to be at the centre of the Lintas Tandzim group's latest operations. It also said that convicted terrorists arrested after the first Bali bombings in 2002 and gradually released over the past few years had returned to their old networks.
"Clearly, the actions of these men demonstrate that spending time in prison didn't serve as a deterrent, nor were they persuaded to abandon the pathway of violence."