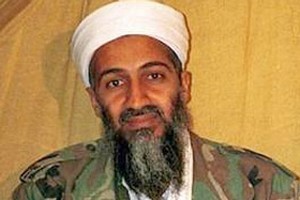 US President Barack Obama will not release a photograph showing the body of Osama bin Laden after he was killed in a US raid for fear it will become a propaganda tool, the White House said today.
"The president has made the decision not to release any of the photographs of the deceased Osama bin Laden," White House spokesman Jay Carney told reporters.
Obama had consulted members of his national security team about whether to release the photo which he has seen, before taking his decision.
The photographs are "very gruesome", one of Obama's staffers told AFP.
Bin Laden was reportedly shot above his left eye by US Navy SEALS. The bullet blew away part of the side of the terrorist's head.
"It wouldn't be appropriate for young people to see it on the front page of a newspaper", the staffer said.
In an interview with CBS, Obama stressed it was important to keep photographic evidence from "floating around as incitement or propaganda tool," Carney said.
"That is not who we are. We don't trot this stuff out as trophies," Obama added.
Speaking to media at the White House, Carney said releasing the photo would be a national security risk.
He could not answer whether the families of victims of the September 11 attacks would be shown the image in private.
Obama is to meet with families in private tomorrow and visit New York's Ground Zero.
"He wants to share with them this moment, a bittersweet moment," Mr Carney said.
Mr Carney would comment further on the details of covert operation to kill or capture bin Laden at the compound in Abbottabad, Pakistan, where he was hiding out.
"I think I made it pretty clear we have provided a great deal of information. I think most people's focus is on the remarkable thing that was accomplished."
He said the Government was keen not to divulge information that may hinder similar operations in the future.
Mr Carney would not comment on whether there was any attempt to interview bin Laden before he was shot and was not aware of whether bin Laden's wife was interviewed before the Seals disembarked.
"Bin Laden's surrender would have been accepted if feasible," he said.
"The operation was conducted in a manner fully compliant with the rules of war. There is simply no question, this operation was lawful."
Mr Carney said bin Laden was continuing to plan attacks against the US and its allies.
"We are obviously interested in finding the details of the support network that helped bin Laden in Abbottabad. We don't know the members of that support network."
Mr Carney would not be drawn on whether the much criticised "enhanced interrogation techniques" - which include water-boarding - were pivotal to bin Laden's capture.
"I can't say with certainty that no single piece of information, apart from the address of the compound, was vital."
- AFP, Paul Harper