Bernard Tomic dispatched the ninth seed yesterday as his father remained banned from Wimbledon.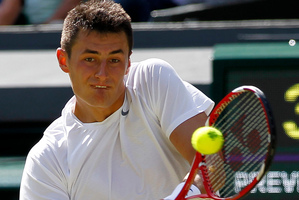 Maybe Bernard Tomic should ask the Association of Tennis Professionals to extend his father's ban, not lift it.
The Australian certainly did not need his hand held yesterday on what was his debut on Centre Court, where he produced one of the biggest wins of his young career to move into the last 16.
Tomic had been on an 11-match losing streak against top-10 opponents but he repeated his 2011 third-round upset of Robin Soderling with an outstanding 7-6, 5-7, 7-5, 7-6 victory over ninth seed Richard Gasquet.
The world No 59 complained bitterly last week about father John's one-year suspension over allegations he assaulted his son's former playing partner - something Tomic snr denies.
And the 20-year-old was in no mood to backtrack yesterday, bristling when asked whether he was actually better off on his own.
"You don't say that, all right, that 'Your father's not here, you're doing very well, do you need him, don't you need him?"' said Tomic, who plays seventh seed Tomas Berdych next.
"That's not an appropriate question to ask because he's my dad. You know, it's family. I'm going to stick by that."
He added: "What you guys don't see is that, here at the grounds, it's something different."
"When I leave the grounds and go somewhere different, you don't see what I'm doing with my dad. I could be practising, I could be working on stuff. You see the results, but you don't know exactly what's happening."
Tomic snr's ban applies to the entire Wimbledon grounds, with security guards under orders to refuse him entry if he tries to sneak in.
"Maybe my dad is watching," Tomic said with a huge grin.
"Maybe you guys just can't see him. You don't know with my dad, you just don't know. He could be there."
Daddy day care was probably necessary when Tomic became the youngest man since Boris Becker to reach a Wimbledon quarter-final two years ago, and also in the intervening period when he managed only one victory over top-10 players.
But this year's Championships could well be his coming of age.
Tomic took to the court minutes after his rugby-playing compatriots had staged a thrilling fightback to beat the Lions.
"I saw a bit in the locker room," he said.
"By the time I went on, they were still going. I heard the news after, which was good stuff."
Tomic demonstrated just as much Aussie grit against fragile Frenchman Gasquet, himself once men's tennis' bright young thing, a player who has been dogged by the kind of brittle brilliance that was all too evident again yesterday.
There was only one winner, with Tomic going up a mini-break early on and never really looking back.
His victory was another boon for Australian sport, which has been the subject of ridicule in recent times, so much so that even Laura Robson's incredible third-round triumph is being claimed as a success for the country of her birth.
Tomic said: "I'm very happy the way the day's turned out. Very good stuff from Laura. She won her match. Wasn't easy."
"She's young, as well, like myself, doing very well. It's good to see young people doing well.
"In this sport, it's very difficult to mature and get these sort of results at a Grand Slam at a young age.
"I'm happy I'm doing well and very happy for her as well."
Nobody dared mention that Robson's mother was also missing from SW19.
Top results
* 8-Juan Martin Del Potro (ARG) bt Grega Zemlja (SLO) 7-5 7-6 (3) 6-0
* 7-Tomas Berdych (CZE) bt 27-Kevin Anderson (RSA) 3-6 6-3 6-4 7-5
* 4-Agnieszka Radwanska (POL) bt Madison Keys (USA) 7-5 4-6 6-3
* 8-Petra Kvitova (CZE) bt 25-Ekaterina Makarova (RUS) 6-3 2-6 6-3.