A team with no professionals but a great love of their country battle incredible odds, writes Michael Burgess.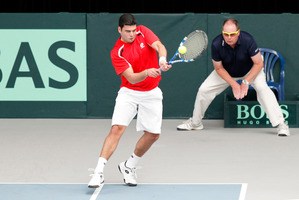 Lebanon may have lost the Davis Cup tie convincingly but in many ways, they were doing well just to be there.
Today's singles matches are dead rubbers, after New Zealand swept the three initial matches, with Dan King-Turner and Marcus Daniell winning yesterday's doubles 6-1 6-1 6-1 to give New Zealand an unassailable 3-0 lead.
The Middle East nation were always going to be unbackable underdogs. None of their players have a single ATP ranking point; all the team have to hold down full-time jobs.
One runs a jewellery store, another works for a business media company. Most play only local tournaments, of a low standard, since there are no ITF events there.
Due to visa issues, their No1 player didn't arrive in New Zealand until Thursday evening, less than 24 hours before the start of the tie.
"It's tough but we learn to cope with these things," says Lebanon team captain Hussein Badreddine. "I think we are the only team of eight countries in this zone where there are no professional players.
Even countries like Kuwait, Syria and Sri Lanka have professional players. Because everybody works, we can only practise at night and on the weekends."
"I work full-time, I coach and then I practise when I can," says doubles player Ibrahim Abou Chahine, who works for Zawya, a business news service owned by media giant Thomson Reuters. "It's a tough situation. Waking up at 6.30am, going to work from 8am to 5pm, then coaching from 6pm to 8pm. Then if you can still stand, you go out and train."
Like most Lebanese players, Abou Chahine plays a series of local summer tournaments (in the evening after work) and then almost nothing for the rest of the year. He "can't remember" the last Futures event he played, estimating it was six years ago at a tournament in Lebanon and he played in qualifying.
"I spent five years in Sydney at university and played a lot of tournaments there - now I am back home and facing reality," says Abou Chahine.
"It's tough. Not many teams arrive without a player and travel with just a captain [no coach or physiotherapist] but we love our country."
Karim Alayli, their No1 player for this tie and most experienced (48 matches), runs a jewellery shop with his father and sister and is set to step down soon, to concentrate on his business.
According to Badreddine, who represented Lebanon as a player between 1992 and 1995 and has been captain or coach ever since, the sport is in good heart, despite the handicaps.
Tennis ranks in the top three in terms of participation and popularity, nestled behind football and basketball.
While we bemoan our current depth, with no male players in the top 200, Bahreddine talks of Lebanese "legends" of the past such as Jicham Zaatini, who reached a career high ranking of 502, or Ali Hamadeh, who peaked at 154 in doubles. Lebanon is ranked third out of 20 Arab countries and 13 out of 35 nations in Asia.
Badreddine left Lebanon as a child with his family during the civil war (1975-90), getting his tennis education in France before returning in the early 1990s. He says the widespread Lebanese diaspora, partly caused by the years of conflict, can be a rich source of players.
"We have had quite a few double nationality players," says Badreddine. "At the moment, [the federation] have told us we might find a player who is in the USA. They said he changed his name but his dad is Lebanese so we are checking. We are not completely sure about his nationality but they promised they will do their best to see if we can catch him. We have heard he is really good, though he is already 27."
Both player and captain ooze with pride about their war-torn but beautiful country.
"We absolutely love our country and that is what makes the difference," says Abou Chahine. "You feel so proud to be here, representing your flag and your people. We don't have a great image but to be honest Tourism Lebanon have done nothing to change this, which is very disappointing."
Before this weekend's tie, the two countries had clashed on three previous occasions. In 1957, a New Zealand side featuring Lew Gerrard, one of the best players in our history, and Jeff Robson (also a national badminton representative) beat Lebanon 5-0 in Beirut.
In 1998, again in Beirut, New Zealand was pushed harder; James Greenhalgh lost both his singles rubbers but current captain Alistair Hunt won both his matches and combined with Greenhalgh for a doubles victory. The most recent clash came in 2006, when Mark Nielsen and Dan King-Turner anchored the hosts to a 5-0 sweep at Albany.