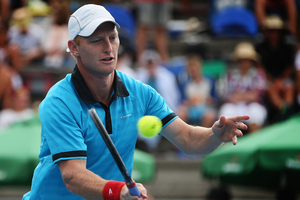 It was easy going for the New Zealand Davis Cup tennis team on the first day of their Davis Cup Asia/Oceania Group II tie against Lebanon yesterday as they established a 2-0 lead and dropped only five games across six sets of tennis.
New Zealand No 1 Dan King-Turner set the tone when he beat Lebanon No 2 Michael Massih 6-1, 6-1, 6-0 in just under 60 minutes and Artem Sitak then dispatched Lebanon No 1 Karim Alayli 6-2, 6-1, 6-0 in 67 minutes to put New Zealand on the verge of overall victory. They can wrap up the tie in today's doubles.
For King-Turner, the match was something he hadn't experienced before.
"It was the most convincing Davis Cup match I've ever played and the shortest time-wise as well," he said. "I'm just happy to get the win.
"I just tried to make him play as many balls as possible and he seemed to hit a couple and then missed.
"After that he didn't look too comfortable and I used it to my advantage."
Lebanon were not expected to pose any problems to New Zealand, with no players holding an ATP ranking. They are also missing their highest ranked-player through injury and Alayli arrived in New Zealand only on Thursday because of visa issues trying to come through Australia.
The tie was originally scheduled to be played in Beirut and then Cairo but was eventually shifted to Albany for security reasons.
Lebanon aren't expected to pose any danger in tomorrow's doubles, when King-Turner and Marcus Daniell will try to wrap up victory.
"Marcus and I will concentrate on serving well and should get a few opportunities to break serve, so hopefully we can wrap it up three-zip," King-Turner said.
The winner of the tie will take on either Pakistan or Sri Lanka in April.
- APNZ