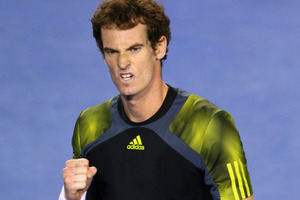 Judging by his subdued post-match press conference, you might have thought Andy Murray had lost to Roger Federer in the semifinals of the Australian Open, but the Scot was all too aware his biggest challenge is yet to come.
Not even beating the greatest player in history for the first time in a Grand Slam match or playing some of the best tennis of his life in a thrilling 6-4 6-7 6-3 6-7 6-2 victory was a cause for celebration. The only thought in Murray's mind was to preserve his energy for tonight's final against Novak Djokovic.
In the Open era, no player has followed up his maiden Grand Slam title with victory in the next event - the last player to do so was Lew Hoad in 1956 - and Murray knows the size of his task as he attempts to build on his victory over Djokovic in last summer's US Open final.
Djokovic, the world No1, has won the Australian title three times and was in sensational form in his semifinal against David Ferrer, after which Brad Gilbert, Murray's former coach, said he had "never seen anybody hit the ball better or more cleanly".
Not only does Djokovic have the advantage of an extra day's rest but he also had a much less strenuous time, Murray having taken four hours to reach his sixth Grand Slam final.
Asked why he appeared so downbeat after such a memorable victory, Murray replied: "It was a long, long match. It's a very late finish. I'm tired. I don't want to be wasting any energy, because I'll need all of it if I want to win against Novak.
"Realistically you're probably not going to feel perfect because of how the match went tonight, but it's not to say you can't recover well enough to play your best tennis.
"I'll have to be ready for the pain against Novak, it's usually a physical match."
If confirmation were needed that Murray and Djokovic have replaced Federer and Rafael Nadal as the game's greatest rivalry, it came with the 25-year-old Scot's masterful victory over the 31-year-old Swiss. The scoreline did not reflect Murray's superiority. But for the two tie-breaks, in which the Scot played poorly by comparison with his level at other times, and one loose service game early in the fourth set, the world No3 was much the better player.
Having proved he could beat Federer in a five-set match with his emphatic victory in the Olympic final, and with his confidence reinforced by his victory over Djokovic in New York, Murray never looked overawed.
Federer, 17 times a Grand Slam champion, can intimidate with the quality of his play, but he looked rattled as Murray took charge. After the Scot had cracked one of many passing shots beyond his reach towards the end of the fourth set Federer shouted angrily at Murray, who responded with a simple smirk.
Both players played down the incident and refused to reveal what Federer had said. "It was very, very mild in comparison to what happens in other sports and there were no hard feelings," Murray said but the incident underlined the pressure Federer was under.
Federer, generous in defeat, agreed Murray had been the better player: "I think he started off serving well and in the fifth set obviously he did well. I think he played a bit more aggressively because he did create more opportunities over and over again."
Murray is through to his third successive Grand Slam final - he lost to Federer at Wimbledon and beat Djokovic in New York - and Federer has become the player over whom Murray has recorded the most victories (11); Nadal is the only other active player who has won more matches against the Swiss than he has lost.
HOWEVER, ANDRE AGASSI and Federer, who have won more Australian Opens than any other players in the past 40 years, both see Djokovic as the favourite.
Although Djokovic nearly went out to Stanislas Wawrinka in the fourth round, the world No1 demolished Tomas Berdych and Ferrer in his next two matches and has had an extra day of rest as he attempts to match the tally of four Melbourne titles held by Agassi and Federer.
Agassi said: "Given the quality of play and the second life that Djokovic has after that Wawrinka match, I would give him the edge. He certainly has a lot to prove from last year's final at the US Open. He plays well down here."
Federer agreed: "Obviously Novak goes in as the favourite, I would think, even though Andy beat him at the US Open. Maybe a day extra is going to make a difference. He's had an easy run until the semis.
Maybe it's something [ a hard match] that Andy needed going into the finals. But obviously Novak is the double defending champion here. He's done really well again this tournament, digging himself out of the hole against Stan, coming and playing good tennis against Berdych and Ferrer."
Friends and rivals since they first met at an under-12s tournament in the south of France, Murray and Djokovic have met 17 times as seniors, the Serb winning 10 times. Djokovic, who is a week younger than Murray, won their first four meetings, but recently the honours have been more evenly shared. Nevertheless, Djokovic has come out on top in both their meetings in Melbourne, winning in straight sets in the 2011 final and then edging a five-set marathon at the semifinal stage last year.
Djokovic has a remarkable recent record in Grand Slam tournaments. He has reached 11 successive semifinals, while tonight will be his seventh appearance in the last nine Grand Slam finals, of which he has won four. Since winning the 2011 Australian Open, the only Grand Slam finals he has failed to reach were at the 2011 French Open and Wimbledon last year.
Murray, nevertheless, is building a similar record of consistency. Tonight will be his sixth Grand Slam final, his third in a row and his third at the Australian Open following defeats to Federer in 2010 and Djokovic in 2011.
- Independent