Aussie Open champion says those cruisy women's scorelines don't tell the whole story.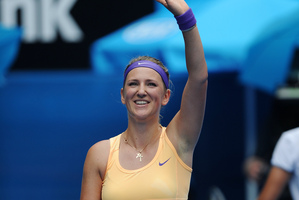 Defending champion Victoria Azarenka was quick to speak up for the depth of women's tennis after cruising into the third round of the Australian Open.
Russian Maria Sharapova has led a march of leading players who have strolled through the early rounds with little effort. The third seed has started her campaign without conceding a game in her first two rounds.
It's the most effortless start to a Grand Slam since Australian Wendy Turnbull's feat at the 1985 Open.
Former winner and favourite Serena Williams has been almost as ruthless, despite playing with an ankle injury suffered in round one.
Williams failed to concede a game in her opening match then reached the third round with a 6-2, 6-0 win over Spaniard Garbine Muguruza.
But Azarenka, the world No 1, said after beating Greek player Eleni Daniilidou 6-1, 6-0 in just 55 minutes, the scoreline could be deceiving.
"Well, I think it's really competitive," she said. "The score sometimes doesn't tell the whole story ...
to win matches like 0-0, it requires a lot of discipline, a lot of focus ... It seems like everybody is in great form."
Azarenka, who conceded five games in her first match, said she was now in a "competitive mode".
"I felt really good, I enjoyed a lot the way I was focused," she said.
But she warned that no top player could afford to be blase about their lower-ranked opponents, even if the scoreline was flattering.
"Never underestimate anybody. Anybody on a given day can play an outstanding match, especially when they have nothing to lose."
Serena Williams said she believed her ankle was improving daily.
"I was doing everything I could from icing it to massage and I woke up this morning and said to myself 'this feels pretty good'. I'm just going to keep my fingers crossed."
Late last night, Roger Federer continued his bid for a fifth Australian Open title, advancing to the third round with a 6-3, 6-4, 6-4 win over Russian veteran Nikolay Davydenko.
The 31-year-old Swiss star will now play Bernard Tomic, Australia's last player surviving in the singles draw.
Also last night, former US Open winner Juan Martin del Potro beat German Benjamin Becker 6-2 6-4 6-2.
Earlier, US Open champion Andy Murray had a 6-2, 6-2, 6-4 victory over Joao Sousa of Portugal.
Murray didn't allow Sousa a single break-point chance in the steamy conditions.

Top results
•3-Andy Murray (GBR) bt Joao Sousa (POR) 6-2 6-2 6-4.
•3-Serena Williams (USA) bt Garbine Muguruza (ESP) 6-2 6-0.
•1-Victoria Azarenka (BLR) bt Eleni Daniilidou (GRE) 6-1 6-0.
•2-Roger Federer (SWI) bt Nikolay Davydenko (RUS) 6-3 6-4 6-4
•6-Juan Martin del Potro (ARG) bt Benjamin Becker (GER) 6-2, 6-4, 6-2.
- AAP