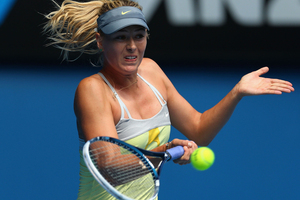 Second seed Maria Sharapova cruised into the second round of the Australian Open on Monday in Melbourne.
The reigning French Open champion scored the easiest possible win, crushing fellow Russian Olga Puchkova 6-0 6-0.
Last year's runner-up allowed Puchkova just 23 points as she ripped through the match in 55 minutes.
Sharapova meets the winner of the round-two clash between Japan's Misaki Doi and Croatian Petra Martic.
Meanwhile Venus Williams used her powerful to full effect to start her campaign with a 6-1, 6-0 win over Galina Voskoboeva of Kazakhstan.
Williams, who had a first-serve percentage of 70 percent, also took advantage of six of 11 break-point opportunities.
After dropping outside the top 100 following a seven-month layoff due to Sjogren's syndrome, an auto-immune disease that can cause fatigue, Williams finished in the quarterfinals or better at five of the 10 events she played in 2012 and improved her ranking to No. 24 by year's end.
Williams could meet Sharapova in the third round at Melbourne Park.
- AAP/AP