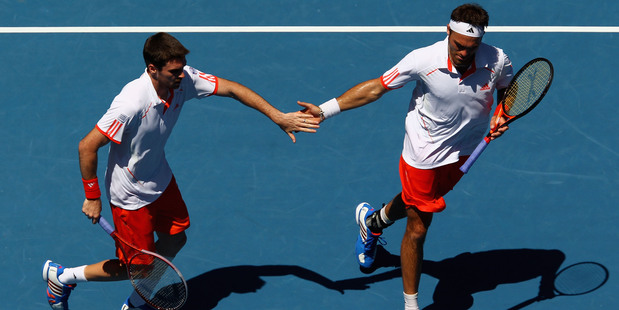 It was only a little bit of back pain - but it had an emotional aftermath when Colin Fleming and Bruno Soares won their first tournament together when they took yesterday's Heineken Open doubles title.
The Scot is still reeling from news that his regular partner, Ross Hutchins, has Hodgkin's lymphoma, a form of cancer detected after Hutchins had some back pain - hardly a strange occurrence for professional tennis players.
He immediately dedicated yesterday's win to Hutchins, who had his first session of chemotherapy on Thursday.
Hutchins is a popular figure on tour. Last week, world No3 Andy Murray dedicated his Brisbane title to his close friend. Few knew Hutchins had cancer at the time - he went public with it this week - which is why Murray referred only to "a sick friend".
Fleming was clearly emotional on court yesterday when he received the doubles trophy after teaming up with Soares to beat Johan Brunstrom and Frederik Nielsen 7-6, 7-6.
For Soares, it was a continuation of a remarkable run that saw him claim five of his 11 doubles titles in 2012.
The world No19 was supposed to play in Auckland with regular partner Alex Peya but he had to withdraw through injury, which led to a "last-minute" arrangement with Fleming.
"It means a lot to me for a lot of reasons," said Fleming, who is the world's 26th-ranked doubles player.
"It's nice to start the year well and it's been a pleasure playing with Bruno this week. I'm happy we could go all the way and win the title because we are good friends and it's nice to share it together.
"Speaking of friends, it's obviously been a tough time. I normally play with Ross and he can't be here, unfortunately.
"It's nice just to be able to win and send little messages of support to him because it's all about positivity to him and everyone in the tennis world is supporting him.
"It's just nice to be able to say that to him because he has a tough fight ahead but he's very positive and I know he's going to get through it. It was just a nice moment to be able to do that."
Hutchins didn't know anything sinister was going on when he suffered back pain last April. It went away but returned and a series of tests last month revealed the extent of his situation.
"Looking back, he obviously had symptoms of this illness but neither of us were to know at the time what was happening," Fleming said.
"I think as tennis players, if we went to the doctor every time we had a pain it would be ridiculous. I have had some back pain this week and have been playing through it, so it's just a really unfortunate situation."
Hutchins faces six months of chemotherapy and, if he's given the all-clear, hopes to be back playing by the end of the year.
In the meantime, Fleming will play with Jamie Murray, brother of Andy, at next week's Australian Open and he's busily trying to work out the remainder of his year.
"We are planning only for him to be back playing, we're not considering any other circumstances, so I said to him that we're a team, we'll start playing again and hopefully we'll go on to have some success," Fleming said.
"I hope to be playing with Rosco again as soon as possible. He mentioned the end of this year. I guess that depends on how things go, but that would be amazing if he was to make that happen."
It would be much more special than any ATP title.
- APNZ