An exciting final looms with both men in form and eager to add to their bag of titles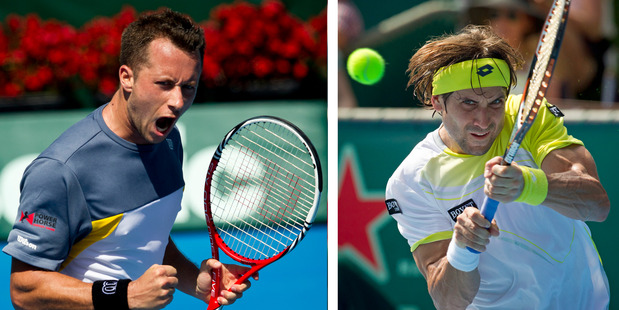 They come here every year, so it's kind of fitting that top two seeds David Ferrer and Philipp Kohlschreiber will meet in today's Auckland men's tennis Open.
The Spaniard and the German already have a Heineken Open to their credit, and both will feel at home on Stanley St's centre court.
Class says Ferrer will get the cash, or more accurately the greater share. Form says Kohlschreiber has a chance. The German has been rock solid all week. Yesterday he outserved gun-slinging Sam Querrey, adding the American's scalp to that of Xavier Malisse and Alejandro Falla.
His composure during the big moments has been the most impressive aspect of Kohlschreiber's game. He has played a tiebreak in every match this week and won them all.
Ferrer has also been solid. After a testing three-setter against Yen-Hsun Lu in his opening match, the Spanish world No5 destroyed Lukas Lacko and wild Frenchman Gael Monfils.
Yesterday's semi against a clearly drained Monfils was a disappointing affair, with the Frenchman unable to overcome the mental and physical demons that plague his game.
Monfils mainly moped about, producing more Gallic shoulder shrugs than quality strokes. Ferrer barely noticed as he coasted to a 6-1, 6-2 victory in just 48 minutes.
"Yeah, but that is not my problem," was Ferrer's response when asked if Monfils had appeared uninterested. "You'll have to ask him. For me it's better to have won in two sets and rest for tomorrow's final."
It's that clinical, disciplined approach that Kohlschreiber fears the most.
"He is like a machine," Kohlschreiber said. "Even if he is playing court five in the first round somewhere he is taking every match 100 per cent."
Ferrer stands on the brink of equalling the great Roy Emerson's four Auckland titles. All week he has insisted it's not something he's thinking about. With 18 career titles and over US$17 million in prize money to his name, chances are Ferrer isn't obsessing about his Auckland legacy. Then again.
"It's important, of course, because it's going to be a record and I don't have any records in my career ... I am not Rafael Nadal or Roger Federer."
Maybe not, but he's about as close to it as it gets at this tournament.
Kohlschreiber, with four titles to his name, is also comfortable with his lot in life. He has played the best tennis of his career over the past 12 months to push inside the top 20, and has every chance of notching a second Auckland title.
"It is going to be difficult for sure," Ferrer said. "Kohlschreiber plays very good in this tournament also. He won one time against Juan Carlos Ferrero, I remember that.
"I need to stay very focused because he plays very flat and very fast with a lot of power with his serve."
If he is to triumph, Kohlschreiber knows his serve holds the key.
"That is one thing that has to work pretty well for sure. David Ferrer is maybe the best (returner) on the tour.
"So everything changes. It is a totally new day. I have to play at my limit to beat David Ferrer.
"In the normal baseline rallies I would see him with a slight advantage," he said.
"He is playing more solid. On the other hand, maybe I can play a bit faster.
"We both know that it is going to be a really good fight. I hope that I can be aggressive and take my chances."

David Ferrer
Nationality: Spanish
Age: 30
Height: 1.75m
Weight: 73kg
Rank: 5
Plays: Right (two handed backhand)
Titles: 18
Prize money: US$17,100,619
Road to the final: Bye; Yen-Hsun Lu 6-3 2-6 6-2; Lukas Lacko 6-2 6-1; Gael Monfils 6-1 6-2

Philipp Kohlschreiber
Nationality: German
Age: 29
Height: 1.78m
Weight: 70kg
Rank: 19
Plays: Right (single-handed backhand)
Titles: 4
Prize money: US$5,585,036
Road to the final: Bye; Alejandro Falla 7-6 4-6 6-3; Xavier Malisse 7-6 6-4; Sam Querrey 6-4 7-6
- APNZ