French player uses all sorts of unorthodox shots in quick victory over Australian qualifier Greg Jones.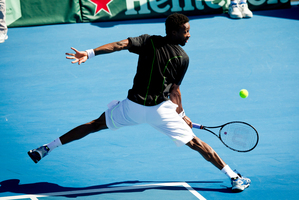 With his leaping volleys, behind-the-back blocks and through-the-legs swats, Gael Monfils has the full bag of tricks.
The Frenchman clearly likes to entertain on court - but he likes winning more.
"It is hard, this question," he says, when asked about his penchant for playing up to a Heineken Open crowd that has now swelled to encouraging proportions.
"Honestly, I want to win the point. I try the shot because I think it is the best shot I can do. Yes, sometimes it is freaky, between the legs or a jump. But if you can jump to reach the ball you will jump. It is called a show, and that is nice, but I jump first to catch the ball and win the point."
The trick shots may have produced a mixed bag of results, but so far in Auckland this week Monfils has had little trouble winning points.
Yesterday, he cruised into the quarter-finals with a routine 6-4, 6-3 66-minute victory over Australian qualifier Greg Jones.
Monfils will face the equally impressive third seed Tommy Haas, who demolished Dutchman Igor Sijsling 6-3, 6-4 in just 56 minutes.
Top seed and defending champion David Ferrer had significantly more difficulty progressing to his eighth Auckland quarter-final, with Taiwanese battler Yen-Hsun Lu pushing the Spaniard to three sets. Ferrer was shaky on serve throughout but managed to negotiate the tricky Lu 6-4, 2-6, 6-3 in just under two hours.
Ferrer now faces Slovakian Lukas Lacko in today's quarter-finals.
Ranked just 378, Jones was the giant killer of round one when he knocked out sixth seed Jurgen Melzer. But the rangy Aussie couldn't repeat the feat against the classy Monfils. The Frenchman's serve was pretty much impenetrable despite his first serve percentage dipping to just 51, and his ace count dropping from 19 in his opening match to just three yesterday.
If anything, those underwhelming numbers indicated the former No 7 was in cruise mode. The frequency with which the trick shots came out of the bag also suggested it was hardly life-or-death stuff for the highly entertaining but erratic Frenchman.
"Everything was good but it wasn't a great game," Monfils said. "I was too shy with my shots. I can go for more with my forehand, be closer to the baseline and reach the net more. I'm happy because I ran well and put the ball in play but I am not happy that that is the way I should play."
He's been the victim of some terrible line calls in his two matches so far, however Monfils says his remonstrations with the officials are just part of his on-court shtick.
"I love to talk with the umpire. People say I lose my concentration [because] you are talking but no matter what, you want to win and you stay focused. I just love to talk. It is part of the show."
After an injury-plagued 2012, Monfils needed a wildcard to get into Auckland. He's still concerned about his fitness, but otherwise the game that carried him inside the top 10 as recently as mid-2011 appears to be coming back nicely.
"In my head I never dropped," he said. "Yeah, I am ranked 99 but I keep practising the same. If I can keep going I'll be better soon. I hope so."
Today's match against Haas, another former top 10 regular, shapes as a classic. "He very talented, he's got every shot, so it will be interesting."