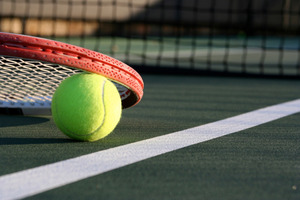 Todd Woodbridge expects to learn plenty about the short-term future of Australian men's tennis when the country's top ranked players Marinko Matosevic and Bernard Tomic clash at the Sydney International today.
In a rare all-Australian showdown at an ATP event, the No 49-ranked Matosevic takes on 64th-ranked Tomic in a high-stakes encounter for a spot in the quarter-finals.
They have never met in an ATP match but have loads of history in lower tiers, including a 2008 clash in Perth where Tomic was ordered off the court by his father and coach John over a foot-fault dispute involving Matosevic.
Bernard Tomic later received a ban and was fined $1500.
While director of Australian men's tennis Woodbridge insists there's no lingering acrimony, describing the pair as "reasonably good mates", he said the match would put the spotlight on their psyche.
"I think the story is more about which one handles the situation and who enjoys the pressure and spotlight," Woodbridge said.
While the match and its result is sure to be of interest to Australian Davis Cup captain Pat Rafter, the conduct of the pair will also matter.
Matosevic was left out of Australia's Davis Cup World Group playoff against Germany in September because of perceived attitude problems, while Tomic has been suspended for next month's opening tie with Taiwan after upsetting Rafter.
The pair had an otherwise contrasting 2012 season.
Matosevic, 27, enjoyed a swift rise from world No 203 at the start of the year while Tomic came back to earth with a thud, slipping from No 27.
Woodbridge said expectations had risen considerably for both.
"Marinko is the sort of player we now know who can reach quarters, semis, finals of this kind of tournament as he did throughout last year," he said.
"And this is the kind of tournament that Bernard needs to win - that's his next stage."
- AAP