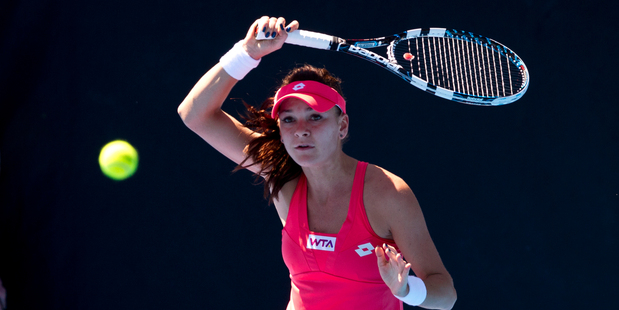 The duty-free shops at Auckland Airport should be on guard - Agnieszka Radwanska will be coming their way today.
The world No 4, who took out the ASB Classic in straight sets (6-4 6-4) over Yanina Wickmayer yesterday, buys a new handbag (usually Louis Vuitton) to celebrate a tournament title and plans to add to her collection.
On her first visit to Auckland, the 23-year-old collected her 11th career title and has no plans to discontinue the habit.
"I have a couple of handbags," laughed Radwanska after the match. "I always buy one when I win something. It reminds me that I won the tournament so for sure I am going to (buy) a handbag tomorrow."
If she is a free spender off court, the Polish panther is terribly stingy on it; she gave Wickmayer almost nothing yesterday, continually making the Belgian play another shot in a clinical display of precision tennis. Wickmayer played well, though unforced errors, particularly off her forehand, proved costly.
Still, the match had a thrilling climax; Wickmayer was on the canvas but, unlike those ubiquitous Belgian waffles, refused to fold. She saved four match points at 3-5, two with audacious clean winners off her forehand.
Wickmayer then forced a succession of break points to level at 5-5 but couldn't convert, with one unforced error off a soft Radwanska second serve particularly costly.
The 2010 champion saved a further two championship points before Radwanska converted the seventh, after Wickmayer dragged a forehand wide.
"It was my fault," said Radwanska. "I was waiting for her mistake (and) when you're not taking chances, it just goes the other way. I should've played more aggressively on the last few points."
"I left my heart and soul on the court," said Wickmayer. "I couldn't do any more. I fought hard and tried to be aggressive but in the end that is why she is ranked in the top five players in the world. She made fewer mistakes."
Radwanska, who is playing her part in a Polish tennis renaissance - "A lot of kids (are) playing (in Poland). If you buy a newspaper, it's not about football as much" - delivered in every way this week.
Given star billing, she came through the tournament without dropping a set and got better with each match.
"There's always something you can work on but I feel I am ready for the Australian Open," said Radwanska. "It was good playing in different conditions every day. I've really enjoyed it here and hopefully I'll be back next year."
The question around yesterday's match was whether Wickmayer - in her third finals appearance in Auckland - could be aggressive and accurate enough to take the game away from Radwanska. It was the third meeting between the pair, having split their previous encounters in 2011.
Radwanska broke the Belgian to take an early 3-1 lead in the first set and seemed to adjust quicker to the conditions. Wickmayer was struggling to hold serve but managed to break back in the eighth game, flashing a perfect backhand winner after a long rally.
After finding her way back into the set at 4-4, she surrendered the initiative almost immediately, giving up consecutive break points to the Pole, who converted the second and then served out the set in 45 minutes.
Yesterday wasn't always vintage tennis from Radwanska but it was extremely solid. While she may lack the power or star quality of many of her peers in the top 10, she is a fascinating player to watch.
"I can't hit the ball like some powerful players," she said. "I always think about who I have on court because every match is different."
Radwanska sometimes gets down on one knee to play her forehand, almost resembling a cricketer playing a cut shot as she feathers the ball over the net.
At other times, she seems to use her whole body to shovel the ball back to her opponent. But the Pole dances across the baseline, her fantastic anticipation compensating for a lack of power off both wings.
The pair traded breaks at the start of the second set in what threatened to be a tighter affair. Wickmayer had her moments - one clean winner at deuce in the fifth game was a brilliant shot under pressure - but she was always struggling to hang on, fighting to escape from Radwanska's vice-like grip.
Wickmayer, who struggles to keep her emotions in check out on court, started to boil over in the second set. After losing the seventh game (and a break), she angrily threw her racket to the ground and swatted a ball away with her hand.
She fought admirably until the end, saving a total of six match points with some incredibly brave tennis, but unforced errors ultimately killed her chances, as they had throughout the match.