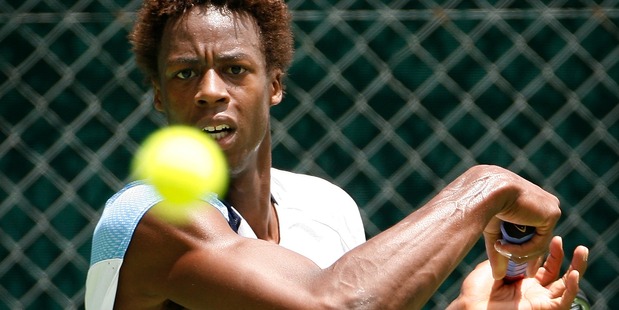 As Gael Monfils hits the courts this week at the Heineken Open, just about everyone will be on guard.
His opponents, especially top seeds, will be wary of the magic Monfils can produce; local fans, ready for the unexpected from the player known as 'sliderman'; tournament organisers, hopeful the inconsistent Frenchman will bring his game and a genuine will to win; and his coaches and training staff, warily tracking his comeback from the knee injury which ruined his 2012 season.
One thing is for certain; if the 26-year-old is on form in Auckland, he will be the most dangerous floater in the draw. While he is ranked 71 and here thanks to a wildcard, Monfils had been as high as world No7 and consistently in the top 15 since 2008.
Of most relevance is his record against the top Auckland contenders - none of the eight seeds has a winning record against him. Spanish star David Ferrer, who is aiming for a historic fourth title in the Queen City, has never beaten Monfils, losing all three clashes (two on clay, one on hardcourt) in 2011, 2010 and 2008.
Second seed and world No20 Phillip Kohlschreiber has won only one of their eight matches and lost all five times on hardcourt. Similarly for Jurgen Melzer (29, 0-3), Sam Querrey (22, 0-1) and Thomaz Bellucci (33, 0-2). Tommy Haas (21) has a 1-1 record. New Polish star Jerzy Janowicz has yet to face Monfils.
Monfils comes to Auckland on the comeback trail and produced a typical mix of sugar and spice last week at the Qatar Open. He impressed beating Kohlschreiber in Doha, his first win over a top 20 player since September and afterwards said he was "physically 100 per cent" and his knee was "fine".
"I didn't know what to expect [from myself] but I produced good tennis," said Monfils. "I moved well and I ran fast." A day later, he crashed out, dumped in straight sets (6-1 7-5) by German qualifier Daniel Brands, ranked 153 and the post-match press conference painted a slightly different picture.
"It was tougher because I felt a bit heavier and it was my first tough match yesterday [against Kohlschreiber]," Monfils said. "I struggled a bit with my recovery. I have to get used to, and, adjust a couple of [things] to be better."
Whether Monfils will be better this week remains to be seen but there is no doubting his pedigree. He enjoyed unparalleled success as a junior - winning three of the four junior grand slams (Australia, French and Wimbledon) in 2004. He turned professional that year and enjoyed almost instant success, winning his first ATP title as a 18-year-old in 2005 and reaching two other finals.
Monfils emerged with Jo-Wilfried Tsonga, Richard Gasquet and Gilles Simon and the quartet were often dubbed the 'New Musketeers' by the French media. Monfils has often been seen as the player most likely to follow in the footsteps of Yannick Noah (1983) and bring hometown glory to Roland Garros. He has enjoyed reasonable runs there - including two quarter-finals (2011, 2009) and a semifinal (2008) but each time was stopped by Roger Federer.
In many ways, Monfils is the perfect prototype of a tennis player. Standing 1.93m, he has incredible reach but at 80kg is extremely lithe; he is athletic and moves like a cat across the court but has plenty of power both on serve and in his groundstrokes. Often seen as the player with the weapons to win a grand slam, he is crippled by inconsistency.
Monfils is also often too defensive, letting an opponent take the initiative as he plants himself metres behind the baseline in retrieval mode.
His famously languid limbs and bendable body - he somehow manages to bring the clay slide to his hardcourt game - has often taken a toll, as he has suffered more than his fair share of injuries over the past few years.
Rafa Nadal and Federer had this to say about him: "His potential is unbelievable," said Nadal, who was beaten in straight sets by Monfils in Doha last year. "But similar to me, when you play very aggressively with that flexibility you have more chances to get injured."
Federer: "I always think it is disappointing when he is injured. Gael is fun to watch but also fun to play against; not just because you win or lose, but because it's exciting."
The tennis community, from the stars to the fans, will hope this week signals the start of a Monfils makeover.