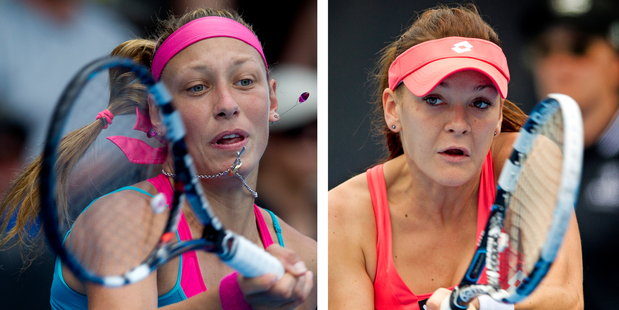 Yanina Wickmayer has taken a liking to the ASB Classic.
Today she will play her third final in just four appearances at Stanley St and, more than that, she will be looking to add to the title she won here in 2010.
It is the most finals appearances in the modern era - it has been played in its present guise since the creation of the 1986 Nutrimetics International - bettering Eleni Daniilidou, who won in 2003 and 2004 but crashed out in the first round in 2005 and 2006.
Wickmayer doesn't know why she has done so well in Auckland, her most successful tournament on tour.
"The air, maybe," she offered.
More like a power game that has seen her consistently in the world's top 25 for the past four years and peak at No12 in April 2010. She has won three WTA singles titles and nearly US$2.5 million in prize money.
That final number will increase today but it's the title she wants the most.
The match will see a contrast in styles with the heavy hitting of Wickmayer against the deft touches and guile of Radwanska. There are few players who could get away with a second serve that barely registers above 100km/h (in one service game yesterday she knocked down "rockets" of 101km/h, 111km/h, 100km/h and 104km/h) but Radwanska is no ordinary player.
"She's No4 in the world and has been top 10 for a number of years," Wickmayer said. "A lot of experience and a great player. She doesn't give you any free points and makes you work for every shot."
The pair have played twice before, with each winning one match. Wickmayer won on hard court in 2010, Radwanska on clay in 2011.
Radwanska's style will be the complete opposite to what Wickmayer faced yesterday from Mona Barthel, the big-serving, big-hitting German eighth seed.
It was often a struggle for Wickmayer to deal with but a significant improvement on the Hobart final 12 months ago when Barthel blitzed the Belgian 6-1 6-2.
It is a match Wickmayer remembers well and helped her win yesterday.
"I knew it was going to be a tough match because she kicked my arse once before. I knew what to expect so I was ready for it."
It's much like the way she has approached the year. The 23-year-old came into this week's tournament declaring she had just had not only the best off-season of her career but she was also in the best shape.
"I'm really excited about [the final]," Wickmayer said. "I've got nothing to lose ... I'm just going to try to play my best game."
Invariably, it's what she does in Auckland.

Agnieszka Radwanska is the tennis version of a pinata. Not the proper ones that break open after a couple of hefty whacks with a hockey stick to expose their inner delights. We're talking the unbreakable ones from the cheap and cheerful gift shop that you get for your 7-year-old's birthday party; the ones that, after watching the kids whale away hopelessly with a baseball bat for an hour, eventually drive you to get out the chainsaw.
A week's worth of tennis pros have banged away at Radwanska this week without really exposing a chink in her armour.
Hard-hitting American Jamie Hampton tried her damnedest in yesterday's semifinal. Radwanska simply refused to yield, riding the ebbs and flows of Hampton's boom-or-bust power game to take the match in two tie-break sets. It was the tennis version of boxing's "take 'em out into the deep water and see if they can swim". Radwanska took Hampton into the late rounds and let her experience and composure do the rest.
In fairness to Hampton, it was the first time Radwanska had been forced to do anything more than turn up to win. Her progress into today's final has been serene, her execution precise, her movement of the highest order and her shot placement worthy of admiration.
However, a bit like that unyielding pinata, what lies inside remains a mystery. Radwanska speaks perfect English and answers questions thoughtfully and at length. But the responses lack substance. There's seldom anything worth repeating, unless you want to hear that she's hitting the ball well early in the season.
On court there are hints of a ruthless personality that has enabled her to overcome the physical barrier of her slight stature to become one of the best players in the world. She doesn't mis-hit many balls, but when she does a flash of pure frustration surges through her frame.
"I don't know," she says when asked if she is a perfectionist, and whether that trait extends beyond tennis. "It is always frustrating when I miss an easy ball. Or if I have a chance to finish a rally earlier, then yes, sometimes that is frustrating. But I don't think I am a perfectionist for everything, no."
We'll have to take her word for it. She doesn't appear likely to give up anything any time soon - and that extends to today's final against Yanina Wickmayer.
Of anyone at this tournament, the Belgian former champ may have the game to test Radwanska. But to do so she'll have to maintain her level for the entire match.
Radwanska won't overpower anybody. She won't inflict any major wounds. It's death by a thousand cuts, and no one in Auckland has been able to stem the bleeding for long.

WICKMAYER
Nationality: Belgian
Ranking: 23
Seed: 3
Age: 23
Height: 1.82m
Weight: 68kg
Plays: Right (two-handed backhand)
Prize money: US$2,487,404
Titles: 3
Road to the final: 1st round Magdalena Rybarikova 7-6 6-2, 2nd round Romani Oprandi 6-3 6-0, QF Kirsten Flipkens 6-3 6-4, SF Mona Barthel 6-4 1-6 7-6

RADWANSKA
Nationality: Polish
Ranking: 4
Seed: 1
Age: 23
Height: 1.72m
Weight: 54kg
Plays: Right (two-handed backhand)
Prize money: US$11,051,677
Titles: 10
Road to the final: 1st round Greta Arn 6-2 6-2, 2nd round Simona Halep 6-3 6-1, QF Elena Vesnina 6-3 6-3, SF Jamie Hampton 7-6 7-6.