Spanish World No5's Energiser Bunny approach often makes him untouchable at Auckland tournament.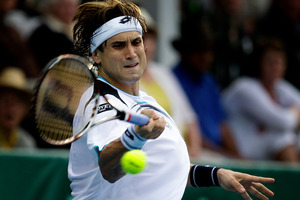 A bit like the tennis ball in one of his classic baseline rallies, David Ferrer just keeps coming back.
Coming off his best season in 2012, - during which he captured seven of his 18 career titles - the Spanish world No5 is back in Auckland defending his Heineken Open title. Already tied with Kiwi great Onny Parun with three Auckland titles, if Ferrer triumphs again he'll tie with the legendary Australian Roy Emerson as the event's most successful player.
Emerson ruled the roost in Auckland for three-quarters of a decade. He made six straight finals between 1959 and 1967 (the event wasn't held between 1962 and 1964), winning four. His two defeats came at the hands of Kiwi Jeff Robson in 1959 and Aussie heavyweight Rod Laver in 1961.
Viewed through the prism of modern times, the idea of a 12-time Grand Slam winner taking on an 11-time Grand Slam winner in the Auckland final seems borderline bizarre.
Elite players still come to Auckland, but usually well before or after their prime.
Juan Martin Del Potro, the Argentinian 2009 champion, promised to return only to price himself out of the market by winning the US Open later that year.
In these meticulously managed, cash-first times, winning slams opens the door to the big-money early-season exhibition tournaments. For small-beer events like Auckland, it's adios, baby. There have been exceptions. Brazilian Gustavo Kuerten had three French Open titles in the bag when he came here in 2003.
The player affectionately known as Guga duly won the Auckland title, and came back the next year to defend it.
Chilean superbrat Marcelo Rios was at the top of his game when he claimed the Auckland title in 1998, going on that year to claim the No1 ranking. He still ranked two the following year when he made a disappointing first-round exit.
But in recent times the Big Four of Roger Federer, Rafael Nadal, Novak Djokovic and Andy Murray - and even the likes of one-time slam winner Andy Roddick - have given Auckland a wide berth. So Ferrer, a player with three Davis Cup titles to go with his swag of ATP silverware, and career earnings closing in on US$20 million ($24 million), is about as close as it gets to tennis royalty at Stanley Street these days.
"He's what I call the modern style of player - a baseline player," says Parun, who has watched on with admiration as Ferrer has matched his achievements.
"He's a very good competitor as most of the Spanish boys are. Look at Nadal, you can't accuse him of not trying. And Ferrer is in that mould. They've been well trained from birth and they've got a good competitive streak in them. They play to win and it doesn't matter how long they have to stay on the court."
Ferrer may have never cracked the slams, but making the semifinals in all four premier tournaments is hardly bad going. Ferrer has game all right, it's just not quite big enough to consistently cut through the world's top four players in the same tournament. But when he brings his Energiser Bunny approach to Auckland, as he has done every year since 2006, often he is untouchable.
Last year he all but strolled to the title, dropping just the one set, to Colombian Alejandro Falla in the quarter-finals.
All up, he boasts a 21-5 record in Auckland, having reached the quarterfinals or better seven times out of eight appearances.
Though his many returns here have been happy, Auckland is not Ferrer's most successful destination. He has won his hometown title in Valencia four times. It would be a brave soul to bet against him tying that mark here, and in the process put his name up alongside Emerson as the Open's most successful player.
"I'll watch like most people on TV and good luck to David," says Parun. "He's supported our tournament so many times. He is a top player. He is not one of the superstars of the game but he is pretty damn close."

David Ferrer
Nationality: Spanish
Age: 30
Height: 1.75m
Weight: 73kg
Rank: 5
Plays: Right
Titles: 19
Highlights: US Open semifinalist (2007, 2011), Australian Open semifinalist (2011), Wimbledon semifinalist (2012), French Open semifinalist (2012)
Prize money: US$17,049,089