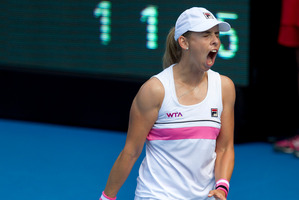 A sluggish, nervy start and a faltering first serve consigned Marina Erakovic's 2013 Classic campaign to a rapidly filling what-might-have-been file, with the Kiwi No1 going down in straight sets in the second round yesterday to American Jamie Hampton.
Erakovic struggled to get her feet going in the opening set and was blown out 6-1 in just 27 minutes. If the opening exchanges were an emphatic case of what could go wrong, the second set was more an example of opportunities spurned.
"Jamie was teeing off at the start and connecting well and I just wasn't able to get my ground and get things together," Erakovic said.
"I felt like I did that better in the second set. I definitely had my chances but was just a little short."
For the second day running Erakovic referenced early match nerves. The burden of being this country's only creditable tennis professional doesn't seem to be getting any lighter to carry, particularly in the ASB Classic.
"It's tough to play here for sure. Is it the toughest? I don't know. It's tough wherever you go. I really like to do well here because I have a lot of support. A lot of friends come out. I try my best but you can't always be super-duper every day."
The first signs of life from the Kiwi came in the second game of the second set, when she recovered from 15-40 down to hold serve. Having failed to dent Hampton's sharpish but not overpowering serve in the opening set, Erakovic broke through to love in the fifth game, and peeled off a solid service game of her own to lead 4-2. But the burst of form that had propelled her back into the contest absconded, with her first serve leading the disappearing act.
Erakovic never gave up. At 4-5 down and serving to stay in the match, she somehow muscled through without landing a single first serve.
That was gutsy, for sure, but it also highlighted what might have been. With the number of miscued shots from the American's racket soaring, a little consistency from the Kiwi would have gone a long way.
She broke to give herself a chance to serve for set and even started the service game with an ace. But after that the yips returned, with Hampton breaking back to force a tiebreak that was only ever going to go one way.
At 2-6 Erakovic appeared to be going out without a whimper, but she rallied to save three match points before Hampton ripped a forehand winner. That shot ended a mixed, all-too-brief campaign from the Kiwi. Her crushing first round victory was impressive and showcased significant improvement, while the defeat that followed exposed familiar failings. She didn't move well and her backhand failed her almost as often as a serve she insisted wasn't all that bad.
While she did snap a three-year run of first-round exits, Erakovic struggles to bring her best form to her hometown event.
"It was to do with the feet more than anything else," she said. "I was slow and just not getting around as many balls as I would have liked to.
"I really tried to get it going but I had no rhythm and the first set just flew by.
"I had a lot of chances through that second set so, yeah, it definitely hurts. But Jamie played some great points and she deserved to win."
Five reasons to get into the Classic
1. Honestly, what else is there going on at the moment?
2. Okay, so the Black Caps have just started a test match, but that won't last long and it's in the middle of the night.
3. It might not be up to the standard of, say, Federer v Nadal, but for the discerning eye there is plenty of quality.
4. Marina is playing quite well this year.*
5. The world's fourth-ranked player is in town and she's pretty useful. If Agnieszka Radwanska goes on to win Wimbledon, you can claim during dull barbecue conversations that you "discovered" her here.

*Well, she was...