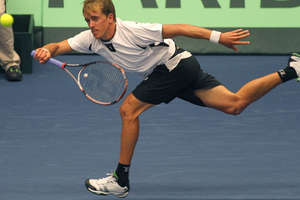 Beating India in the sub-continent is a difficult proposition for the New Zealand Davis Cup tennis side - and it's something they haven't achieved for 35 years - but this weekend's tie looms as a rare chance.
India were in the world group as recently as last year but three of their top players will be absent because of ructions within Indian tennis.
Rohan Bopanna and Mahesh Bhupathi have both been banned for the tie because they demanded to play as a pair at last month's Olympic Games and also refused to play with Leander Paes, and Paes indicated he preferred to play in a World Team Tennis event in the US rather than Davis Cup.
The acrimony between India's top players dates back some time - Bhupathi and Paes once fought over a Bollywood actress - but in June Bhupathi accused Paes of being a "backstabber" because Paes changed his doubles partner on the eve of a tournament without telling Bhupathi.
Bhupathi and Paes had previously put Indian tennis on the map, having won both Wimbledon and the French Open and climbing to the top of the world's doubles rankings.
Their relationship has always been a tense one but it now seems it's beyond repair.
"We have a love-hate relationship but it's worse now," Bhupathi said in June. "We have made our relationship a laughing stock in the country. Both of us are to blame for this. We don't speak and have no camaraderie."
Bhupathi essentially challenged the All India Tennis Association to ban him and Bopanna and they duly obliged.
It has shorn India of considerable firepower. Paes is ranked as the world's fifth-best doubles player with Bopanna (15) and Bhupathi (18) not far behind.
To make matters worse, Somdev Devvarman, who had a career-high ranking of 62 in singles last year, is also unavailable because of injury.
It means India will field a young and inexperienced team to tackle New Zealand in the Asia/Oceania Group I relegation playoff.
Yuki Bhambri (ranked 179 in singles), Vishnu Vardhan (262), Saketh Myneni (383) and Sanam Singh (367) have been chosen for the tie and they will still start as favourites on home soil.
Their rankings still compare favourably to those of the New Zealanders - Rubin Statham (317), Daniel King-Turner (382), Michael Venus (592) and Artem Sitak (705) - but the Kiwi camp are optimistic of retaining their place in Asia/Oceania Group I despite the prospect of playing in hot and humid conditions in Chandigarh in India's north.
"India is fronting up with a younger and less experienced team which gives us a real opportunity to get a result," New Zealand captain Marcel Vos said. "On paper it's a fairly even tie with five great potential match-ups, so if we can all play our best tennis and handle the conditions well it will be an exciting tie.
"Even though it's being held in India, our guys have more Davis Cup experience then our opponents and hopefully this will become a factor as well. We are keen to put in a total team effort."
The two nations have met on six previous occasions with three wins apiece, but India won the last three in 2002, 2003 and 2004 and New Zealand's three wins came in the 1970s when the likes of Onny Parun, Chris Lewis and Brian Fairlie were playing.
The winner of the tie remains in Asia/Oceania Group I with the loser playing off against Chinese Taipei to remain in Group I. The draw will be made today (Thurs) before tomorrow's opening singles.
- APNZ