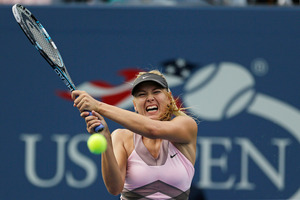 Third-seeded Maria Sharapova reached the US Open second round on Monday with a 6-2 6-2 win over Hungary's Melinda Czink, showing no signs of stomach problems that sidelined her since the Olympics.
Sharapova, the 2006 champion, sent down 24 winners to Czink's eight in a dominant display on Arthur Ashe Court, where a dropped service game in the fourth game of the second set was her only blemish.
Sharapova, this year's French Open champion and a silver medalist at the Olympics, said it felt good to be back on court having skipped the Montreal and Cincinnati warm-ups.
"It's great to be back on a court where I have so many great memories. This is the last grand slam event of the season. This is where it all happens," said the Russian.
She also admitted that the brand new Audi car, given to her by Russian President Vladimir Putin as a Russian medallist at the Olympics, had been gifted to her father, Yuri.
"My dad stole it," joked Sharapova. "I got the medal, he's got the car. It's too tough to ship it from Russia. The medal is easier to transfer."
- AFP