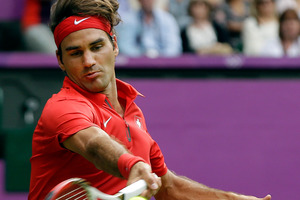 It is the question that has dogged tennis ever since its Olympic reintroduction in 1988.
It had been on the programme since 1896 before disappearing after 1924 for 64 years.
So does it really belong? Is it a comfortable fit? To these eyes it doesn't and isn't.
Why? Because it has its four annual grand slam events: the Australian, French and US Opens and Wimbledon.
Winning one of those must be the pinnacle ambition for any player. Winning an Olympic gold must be that for those who win it. It would not be for a tennis player. Ergo, it does not quite sit right.
The Olympics would seem like a four-yearly jolly for the players, a lighthearted break between the grind of the regular year-long tours.
However, this view is changing. Consider the words of the world's finest player, Roger Federer, who yesterday remembered his first Games experience when he surprised by finishing fourth in Sydney 12 years ago: "I fell in love with the Olympic Games right away."
For the man with everything tennis can offer, Federer's CV is lacking only an Olympic singles gold.
He lost in the bronze-medal playoff to French relative unknown Arnaud di Pasquale in Sydney in 2000; to Czech Republic player Tomas Berdych - then unknown, but now among the game's best players - four years later; then to American James Blake in the quarter-finals in Beijing.
He did win the doubles crown in Beijing, but there may be a personal reason why the Olympics mean so much to the Swiss ace.
Having lunch in the athletes' village at Sydney, he met Slovak player Mirka Vavrinec. She became his wife and mother of their twin daughters.
"It is a special thing to be part of, and if you can be fortunate enough to win a medal or even a gold medal, it means everything," Federer said.
"But it is extra special for me, of course, because of what it means to how my life has gone."
Federer has never resiled from his view that an Olympic title really matters and he is an eloquent defender of tennis' right to be on the programme.
Other players seem to now share his view. Rather than a chore to be endured, players seem to have gained an appreciation for the four-yearly jamboree. Success does matter.
New Zealand's Marina Erakovic, desperately disappointed at her first-round exit to Canadian Alex Wozniak yesterday, believes that one day an Olympic gold will come to sit on a par with a grand slam singles crown.
That might be a stretch, but the point is that it is a popular event on the Games programme, it is a tournament filled with all the biggest names, bar the injured Rafael Nadal, and so it fits the bill on those counts.
"As time goes by this event will be just as important as any other tennis tournament," Erakovic said yesterday.