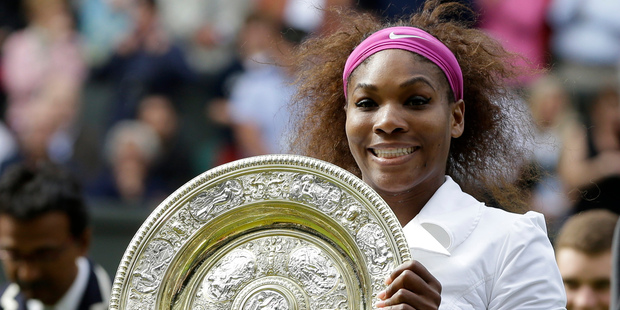 Tennis diva Serena Williams has smashed her own Wimbledon ace record in snaring a fifth Wimbledon crown with a fighting three-set final defeat of Agnieszka Radwanska.
The American serving dynamo spectacularly notched up her 100th ace of the championships with four straight in one rarely seen "golden game" of her 6-1 5-7 6-2 victory over the Polish third seed.
Williams' recovery from a jittery second-set meltdown takes the Williams family's remarkable title haul at the All England to a perfect 10.
Older sister Venus has also collected five singles trophies on London's hallowed grass and the most successful siblings in the sport's history will also shoot for a fourth triumph in the women's doubles final.
Serena's latest conquest also completed her inspirational comeback from a year out of the game with injury and life-threatening illness and gave her an identical strike rate in grand slam finals as fellow American all-time great Pete Sampras.
All the focus this fortnight has been on Roger Federer's quest to match Sampras's seven title successes at the All England Club - but Williams quietly beat the Swiss marvel to the punch in equalling Sampras's pre-Federer grand slam benchmark.
The 30-year-old former world No.1 joins Sampras with 14 career majors from 18 finals with her emotional two-hour, two-minute victory.
Poland's first grand slam finalist in 73 years, Radwanska did a commendable job even making a match of it.
There were fears early for the former Wimbledon that she may suffer the ignominy of being on the wrong end of the first double-bagel final defeat in 101 years.
The first-time major finalist trailed 5-0 and 15-40, but gallantly saved two set points and held with an ace to avoid the same sorry fate as Dora Boothby, who was humbled 6-0 6-0 by fellow Brit Dorothea Lambert Chambers in 1911.
After finally getting on the scoreboard, Radwanska seemed to benefit from a timely rain break after the opening set and most definitely seized on some Williams jitters to stretch the match to three sets.
But like dethroned titleholder Petra Kvitova in the quarter-finals and Australian Open champion Victoria Azarenka in the semis, Radwanska was ultimately unable to overcome the awesome serving firepower of Williams.
The American brute rocketed down 17 aces in all to give her a staggering 102 for the championships - 14 more than her previous grand slam women's record of 89 set in winning the 2010 Wimbledon title.
Radwanska had the opportunity to climb to world No.1 had she won her maiden major.
Instead, the 23-year-old will rise to a career-high No.2 on Monday behind Azarenka, who will return to the top of the rankings with French Open winner Maria Sharapova slipping back to third.
Radwanska can also console herself with a runner-up cheque for 575,000 pounds (A$873,000), with Williams to pocket 1,150,000 pounds (A$1.75 million).
Williams will move up from sixth to fourth in the rankings on Monday - just 16 months after suffering a pulmonary embolism which the former No.1 feared could have killed her.
- AAP