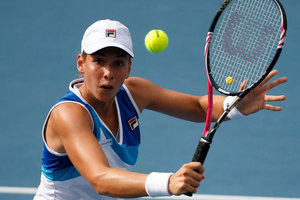 Marina Erakovic's chances of earning Olympic selection have suffered a major blow after losing in the first round at the French Open this morning, but she remains hopeful the New Zealand Olympic Committee will still take her.
The 24-year-world No 42 was beaten 7-5 7-5 by 95th-ranked Spaniard Lourdes Dominguez Lino. Erakovic has made it past the first round just once at Roland Garros, back in 2008.
The NZOC, who require athletes to demonstrate an ability to finish inside the top 16, were waiting to see how Erakovic performed at the French Open before making a decision on whether she should go to the Olympics. A first-round exit here following last week's early loss in Strasbourg and a second-round finish in Rome won't have helped her cause.
Erakovic certainly had her chances today but blew a promising start when she led 5-3 in the first set. She had used her powerful forehand to good effect but, with the set within her grasp, let it slip with a poor service game and the momentum changed.
Dominguez Lino was content to defend throughout. The former French Open junior champion offered nothing in the way of attacking tennis but, inevitably, it was Erakovic who made the vital errors. The statistics tell a large part of the story with Erakovic committing 49 unforced errors to the Spaniard's 12.
"Basically it was her day today," Erakovic said. "I tried to do all the right things and I tried to attack and dominate but she just got a lot of balls back. It is a tough one to take but I did the best I could today and that's all you can ask for.
"What it came down to I needed a little more sting on my shots and I didn't have it today. I tried my best to serve big and hit big and I hit a lot of winners and a lot of unforced errors."
There may have been 50 places between them in the rankings but the dirt is Dominguez Lino's home. The Spaniard was content to rally from well behind the baseline and the waiting game paid dividends.
The decisive moment came at 5-5 in the second set with Erakovic serving at 15-15. She failed to put away a smash and hit the subsequent volley wide. Reflecting on another early loss at Roland Garros, Erakovic was philosophical.
"You can't be too disappointed. I am playing good tennis, I am healthy and at Roland Garros last year I was playing qualifiers. If I continue improving, there will be a lot more grinders I will get on top of."
The ITF require Olympic nominations by June 14, three days after the French Open. Erakovic will point out the Olympics are being played on grass at Wimbledon, her best surface, and that she has risen more than 300 places in the rankings in the past year.
"Of course I would like to go [to the Olympics]," she said. "Grass is a surface I play well on and I have done well on. There are a lot of players from different countries around my ranking who are going so I don't know what the big issue is."
Erakovic is still in the French Open and is seeded 16th for the doubles together with her Romanian partner Monica Niculescu. They play the French wildcard pairing of Severine Beltrame and Laura Thorpe in the first round.

- APNZ