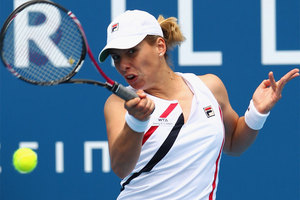 Marina Erakovic's coach is predicting big things for the Kiwi tennis No 1 on the eve of the French Open.
The year's second Grand Slam starts tonight at Roland Garros but Erakovic is not on the day one schedule and could play veteran Spaniard Lourdes Dominguez Lino as late as Wednesday morning New Zealand time.
That's because the top half of the women's draw is being played over the first two days with a light schedule on the opening day.
Erakovic's coach Christian Zahalka said it was a tough first round draw against the world No 93.
"I have known her for 12 or 13 years and she's a tough customer, solid, in good shape, small in stature but she grew up on clay which is her favourite surface. I think if Marina plays well she's going to win, if she doesn't play well it's going to be a complicated match."
Erakovic agreed.
"I've never played her but have seen her play and she's a grinder, hits a lot of balls back, plays her heart out and clay's a good surface for her. It's a good match up for me. I will just try to go out and play aggressively, dictate with the forehand and hit some good serves," she said.
Florida-based Zahalka has been working fulltime with Erakovic for two years and has seen her ranking rise from outside the top 300 to 40 in the world in that time.
"She has improved a lot of aspects of her fitness level and is a very good athlete. The other part of the game has seen some refinements technically and she plays the correct patterns, the right way even when not at her best," Zahalka said.
But how far can the 24 year old Aucklander go?
"Absolutely she can be a top 20 player and that's the main reason I took the job. I've worked with a lot of good players and people asked why are you doing this? I said she's a nice girl has good character, and has the potential to be top 20."
Zahalka said injuries have held Erakovic back up to now but she's largely injury free and he expected her to be in the top 20 within two years.
"Better than top 20, well that's a mental game, believing and reacting well, dealing with the press well because the demand on your time becomes very high."
One of the criticisms of Erakovic has been her lack of a real weapon like the Serena Williams or Sam Stosur serve, but Zahalka disagreed.
"Marina has a forehand that can knock your arse off so to speak but she just doesn't use it much and it's a matter of confidence and believing in it. I think Marina's game is going to end up being very similar to Sam Stosur; the big difference is Marina volleys a lot better."
Encouraging talk. Stosur broke through to win the US Open last year at the age of 27.

- APNZ