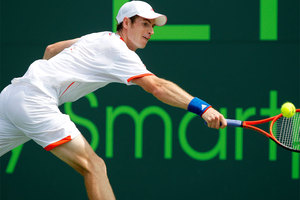 Andy Murray is dreaming of a unique double this year by claiming a first Wimbledon title followed by an Olympic gold medal at the same venue just a few weeks later.
The world No.4 said on Tuesday he is building his summer program around a twin assault on Wimbledon and the Olympics, which will be staged at the All England Club during the London games.
"This summer coming up is going to be huge. Wimbledon and the Olympics would be two of my major goals," said Murray, who played at the 2008 Beijing Games.
"The Olympics is different. The feeling you have on the court is completely different. You feel like you are playing for other people - for your country.
"A lot of times when you are on the tour, you are playing for yourself and the guys you work with.
"When I played in Beijing, I didn't play well but it was one of the best experiences I have had as an athlete, being around all the top athletes in the world," added Murray, who regards the Olympics as a de facto fifth grand slam.
"Tennis at the Olympics has become a big deal. Everybody plays it now whereas, 10-15 years ago, people were skipping the Olympics," he said.
"Everybody is playing now - a bit like the slams. No one skips the Australian Open any more."
Asked whether he views it as the fifth grand slam, Murray added: "I think so. I have only played in it once and it was very important to me."
Meanwhile, Murray said he is pleased with the progress he is making under coach Ivan Lendl, who has given him belief that he can mount a challenge on clay at the French Open despite it being played on his least favourite surface.
"He is confident in the way my game matches up against the other guys on the surface," said Murray, a semi-finalist at Roland Garros last year.
-AAP