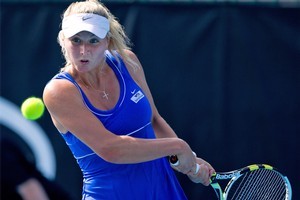 It took a while, but Sacha Jones eventually won her first-round singles match at the US$25,000 Configure Express Pro tennis Challenger at the Renouf Tennis Centre in Wellington yesterday.
Jones looked a bit off her game in the first set against teenage opponent Riko Sawayanagi from Japan who was ranked nearly 400 places below her in a 2 hour 25 minute contest which finished at 6-7 (2) 6-2 6-1 to the former Kiwi No1 who now represents Australia.
"I was surprisingly tense in the first set. I was unusually tense and my arm felt heavy, I don't know why. She was obviously a very good player as well, much better than her ranking would suggest. It was a relief to start playing better,'' said Jones ranked at 228.
"The first set you really wouldn't think I was much of a tennis player, no offence [to Sawayanagi] because she played pretty well.''
Jones now faces another Japanese player, Makoto Ninomiya, in the second round tomorrow. Ninomiya is ranked around 800.
The other Kiwi in action on day one was 15-year-old Claudia Williams from Auckland who was in her first international event. She was defeated by 416th-ranked Keren Shlomo of Israel 6-1 6-1, but showed some potential.
Day two of the tournament today will feature Kiwi teenager Emily Fanning who is ranked around the top 50 juniors in the world and takes on 492nd ranked WTA player Mai Minokoshi in her first round match. Also on court will be North Harbour teen Mia Middleton against experienced Kiwi pro Di Hollands meaning at least one Kiwi will make the second round.
The top seed and world No196 ranked Chanel Simmonds who is widely regarded as the best female prospect to come out of South Africa in a long time takes the court against Australian qualifier Rebecca Leahy.
Results:
Singles first round:
(6)Yue-Yue Hu (China) bt Julia Moriarty(IRL) 6-1 6-0, (2) Sacha Jones(Australia) bt Riko Sawayanagi(Japan) 6-7 (2) 6-2 6-1, Keren Shlom o(Israel) bt WC Claudia Williams (New Zealand) 6-1 6-1,
Makoto Ninomiya (Japan) bt (Q) Luci Barlow (New Zealand) 6-1 6-1, Miyu Kato (Japan) bt Moves Baric (Australia) 7-5 0-6 6-1, (8)Ying-Ying Duan (China) bt Stephanie Bengson (Australia) 6-0 6-1
First round doubles results:
Luci Barlow/Claudia Williams (New Zealand) bt Bridget Liddell/Saravinder Pannu (New Zealand) 6-3 6-0, (2) Anna Fitzpatrick (United Kingdom)/Chanel Simmonds (Sth Africa) bt Emily Fanning/Dianne Hollands (New Zealand) 6-2 6-2.
- APNZ