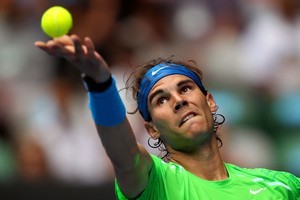 Rafael Nadal met his strongest challenge of the championship at the Australian Open on Friday - and brushed it aside with comparative ease.
Nadal took less than two hours to account for Slovakia's Lukas Lacko 6-2 6-4 6-2 and advance to the fourth round of the Open for the sixth time.
As one-sided as the scoreline turned out to be, Nadal had to fight for his points early in the match.
Having broken Lacko's serve in the opening game, the second seed relinquished his first service game and then had to withstand heavy pressure to hold his second.
"Even 6-2 in the first set was a tough one,'' Nadal said.
Lacko's resistance was best measured by the 43 minutes taken for the eighth game of the set, four minutes more than it took to play 10 games in the second.
But once Nadal had the edge, he never looked like letting it go.
With Lacko's resistance falling to a token level in the third, Nadal opened up, blasting through the set in 33 minutes to set up a fourth round match against either John Isner of the US or Spanish compatriot Feliciano Lopez.
Apart form top seed Novak Djokovic and the third-ranked Roger Federer, Nadal's major concern at the Open remains his left knee.
Despite assurances that it wasn't troubling him, Nadal took the court for the third-round match with heavy strapping in place, as it had been in the first two rounds.
The troublesome knee flared up on tournament eve when it mysteriously locked as Nadal was sitting in a chair in his hotel room.
He described "unbelievable pain'' and loss of control of his leg as a result.
A subsequent scan revealed no abnormality and mobility quickly returned, but the incident will be difficult to erase from his mind as the championship moves into its second week and on-court pressure increases.
Nadal is looking for his second Australian Open victory and his 11th grand slam singles title.
- AAP