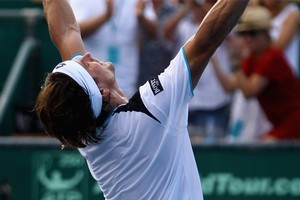 Dylan Cleaver charts the hits and misses of the past fortnight at Stanley St.
There it went, the tennis season in New Zealand. Before you had a chance to shake your brolly dry, it was gone.
The simple fact is the ASB Classic and Heineken Open have become New Zealand tennis.
You may feign interest in Davis Cup matches against Kyrgyzstan in Bishkek, or work up some mock outrage about our second-best female player swapping Ten Guitars for I Should Be So Lucky, but the reality is tennis fans have a 50-week break now before they can get excited again.
So if you've spent the past fortnight at the beach wishing you'd remembered to waterproof your tent, this is what you missed. If you were at Stanley St, or watching on the box, this is what you might have seen.
BEST MATCH
Fernando Verdasco beats Carlos Berlocq
7-5 7-6 (3)
Any fears that the talented - and apparently quite "hot" - Spaniard might treat his first visit to Auckland as a bit of a pre-season jolly were dispelled in this second-round match, Verdasco's first at Stanley St.
Argentine Berlocq played the street fighter role against a player who has the skills to sit among the sport's heavyweights. He scratched and clawed his way through the game with a defence that bent but never broke.
At times it seemed Berlocq had set his stall out at the rear wall and just ran from side to side retrieving balls.
It was rope-a-dope brought to the court and when Verdasco finally prevailed and was greeted with a standing ovation, it was no surprise that he looked relieved rather than elated.
WORST MATCH
Zheng Jie beats Flavia Pennetta
2-6 6-3 2-0 ret
No crowd, no atmosphere and no conclusion. Auckland saved the worst of its foul summer for finals day at the ASB Classic. The doubles were shifted to Stanley St's indoor hangar and when Sunday dawned as miserably, organisers were left with no choice but to follow suit with the singles.
A makeshift corporate area was set up for box-holders but the hoi polloi were shown the red card for safety reasons. It all made for a strange atmosphere and, befitting the surrounds, it was a lacklustre final that can be summarised thus: Zheng was terrible in the first set; Pennetta got injured; Zheng came back; Pennetta retired.
BIGGEST DISAPPOINTMENT
Venus Williams
Tennis Auckland were delighted that Williams' absence did not appear to hurt them, with the Classic selling out from Tuesday on and many of those sales came after the news the American superstar was going to do a no-show.
Even given that they had to redo all their marketing and promotional material, they would have also saved a hefty whack that would have been destined for Williams' Swiss bank account.
But it did hurt. The field was deep and there were some nice players in decent form, most particularly Svetlana Kuznetsova and Flavia Pennetta, but the tournament was lacking the focal point an even half-interested Williams would have provided.
STRANGEST SUBPLOT
Sacha Jones
Aside from tennis aficionados, the majority of New Zealand sport fans were, at best, only vaguely aware of the existence of world No 272 (she's now 235 and climbing). Next minute, she's the latest protagonist in our story of transtasman angst. Jones now plays under the flag of Australia, taking advantage of her father's Australian heritage. As she put it, she did not want to keep "leeching off her parents" to keep her career alive.
She would have been more comfortable leeching off the New Zealand taxpayer, but Sparc did not come to the party in its high-performance funding of tennis, so the national body could not offer her the resources she needed to continue. Tennis Australia could, so she's over there.
There's probably no right or wrong in this, but Jones cannot be accused of not knowing who her audience is, telling a press conference in Hobart how excited she was to see the letters AUS next to her name. She won a match there, too, more than she managed as a wildcard at the Classic.
BEST PROSPECT FOR AUSTRALIAN OPEN
Svetlana Kuznetsova
The obvious answer here would be David Ferrer, but he seems resigned to his status as the best of the rest. The Australian Open is the grand slam most likely to throw up an upset winner, but the Big Four of Novak Djokovic, Rafael Nadal, Roger Federer and Andy Murray seem so far ahead of the rest it is difficult to see a winner emerging from anywhere else.
It's a different story in the women, where there are no clear favourites. Kuznetsova is by her own admission a slow starter, so she surprised herself with a strong showing at the Classic, losing in three sets in the semifinal to the eventual champion.
She thrashed compatriot Vera Zvonareva in Sydney before succumbing to heat illness in her next match.
Of the 18 players ranked above her, an in-form Serena Williams would be the only one you would confidently say Kuznetsova could not beat.
BEST SHOT
Benoit Paire
His quarter-final loss against Olivier Rochus was a nice match speckled with some outrageous shot-making. None was better than Paire's forehand drop shot made from at least a metre behind the baseline.
It floated tantalisingly over the net and was hit with such tremendous backspin the ball basically died on impact with the court.
Rochus has legs that pump like pistons, but even he was left with no show.
THINGS THAT MADE YOU GO 'HMMM'
First-round byes
This is not a new thing, but a 28-man main draw at the Heineken Open is still highly unsatisfactory. Your top-seeded players shouldn't need the assistance of an extra day off. Nicolas Almagro leaves Auckland as a quarter-finalist, yet he won just one game - that's a nonsense.
ANOTHER THING THAT MADE YOU GO 'HMMM'
No speed-gun.
You wouldn't have thought it was too much of a bind for Sky, in their first year as broadcaster of the two international tournaments, to bring a couple of whizz-bang toys to the party.
Whether it was them or Tennis Auckland or even if they borrowed one off the cops, a speed gun should have been mandatory, particularly when you consider much of the intrigue surrounding the ASB Classic was the appearance (in Williams' case, non-appearance) of two of the game's biggest servers in Williams and top-seed Sabine Lisicki.
BEST INTERVIEW
Flavia Pennetta
"Aren't you sick of hearing from me," Pennetta inquired of the gathered journalists as she made her way through the singles and doubles draw. The answer was an emphatic "no". Always thoughtful, rarely trite, Pennetta made the post-game interview, usually the dullest of exercises, just that bit more interesting.
CLASS ACT
David Ferrer
"I'm going out to the back courts, Ferrer's about to lose," uttered an over-excited journalist as the top seed found himself a break down in the third set in his quarter-final against Colombian Alejandro Falla.
He should have known better. Ferrer doesn't do quit.
Three times a champion here, Ferrer has earned every one of those titles by running down everything that moves. While others make it obvious by their actions that they're just here to tune up for Melbourne, Ferrer goes out to win the title.
WORDS I NEVER THOUGHT I'D WRITE
I really missed you, Simon Dallow.