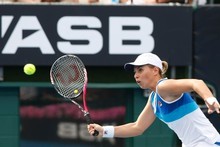 Auckland tennis officials are banking on a rise in the status of a rival event in Brisbane providing a fillip for their women's tournament in January.
The ASB Classic starts on January 2. It clashes with the Brisbane International, which has been upgraded to a premier event on the WTA calendar.
That means, with souped up prizemoney of US$600,000 ($725,000), there is no restriction on the number of top 10 players it can have. However, ASB boss Richard Palmer believes there could be a good spinoff for Auckland, which is limited to one top 10 player.
He flies to New York today to talk to leading men's and women's players about coming to Auckland for both the Classic and the men's Heineken Open, which begins on January 9.
The Classic is rated an international tier event, with US$220,000 prizemoney. The only other clash that week is with the Hopman Cup teams event in Perth.
Palmer is optimistic players ranked around No 11-25 will take a look at the high-calibre field in Brisbane and figure they're likely to get more court time in Auckland, rather than face elimination early from one of the hot shots.
That's a key factor for players at the start of each year. Players want plenty of game time ahead of the Australian Open, which starts on January 16. Palmer makes no secret that the strength of the Brisbane field will be one of his main pitches.
"Not everybody is going to want to go to a field that is obviously stronger than it used to be," Palmer said. "The first tournament of the year, they might think 'I don't know if I want to meet so-and-so potentially in the first or second round'.
"To some players, in a bizarre sort of way, we could get a flowback of players who don't want to be in a field that strong at the start of year."
The Classic has had three players in the top 10 when they played in Auckland - German Anke Huber in 1997, and Russians Nadia Petrova (No 9, 2006) and winner Elena Dementieva in 2009, who was world No 4 and a past world No 1.
Serbian Jelena Jankovic was ranked No 12 when she won the 2007 title, and became world No 1 the following year.
The men's tournament can take any number of top 10 players who fancy a week in Auckland. But with prizemoney of US$450,000 and appearance money needing to be found for the big names, it won't happen.
The Open clashes with the Sydney International, which is in the same category as Auckland, but many players like to spend the week before the Australian Open in that country; others prefer to have the week off.
Still, it's had plenty of top 10 players on its courts. This year's champion, Spanish terrier David Ferrer, was world No 7 when he won his second Auckland title last January, and is now No 5.
Two years ago, Argentine Juan Martin del Potro kicked off his year with victory in Auckland - seven months later he was beating Roger Federer to win the US Open.
By David Leggat

Email

David