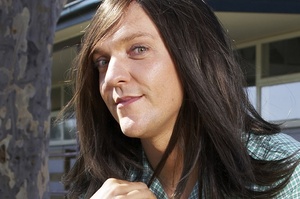 American critics have both praised and savaged Australian comedian Chris Lilley's latest mockumentary series, Ja'mie: Private School Girl, after the show premiered to US audiences.
Lilley's comedy series, featuring the return of bitchy school girl Ja'mie King in her final year of school, showed for the first time on US cable network HBO on Sunday night.
The first episode has had a mixed reception in North America: while some praised Lilley's special brand of black humour, others were not so welcoming.
The Hollywood Reporter savaged the show, saying while the premise was good idea on paper, it wasn't in execution. It branded the show "unbearable to watch".
"You'd have to be the biggest of Ja'mie fans to want to watch her talking non-stop for 30 minutes.
It added the decision to focus on "one of Lilley's most annoying characters" and allow her "to ramble on incessantly robs the character of its past effectiveness and makes her - and the series - almost unbearable to watch".
However, The Washington Post termed the show an "enjoyably sick wallow" that actually succeeded because it centred on one character.
"It helps that Lilley dedicates himself to a sole character, requiring less than one episode for viewers to completely believe in Ja'mie and savour a taste of the (alas, fleeting) comeuppance in store for her."
Slate magazine was also positive about the show, welcoming the return of the bossy school girl, who became a hit with US audiences on Summer Heights High.
"All in all, Private School Girl features the best parts of Summer Heights High, distilled: the exuberant crassness and sly social commentary are stronger here, and ... we get all the campy scoring and ridiculously lascivious dance numbers... that made Summer Heights High great."
- AAP