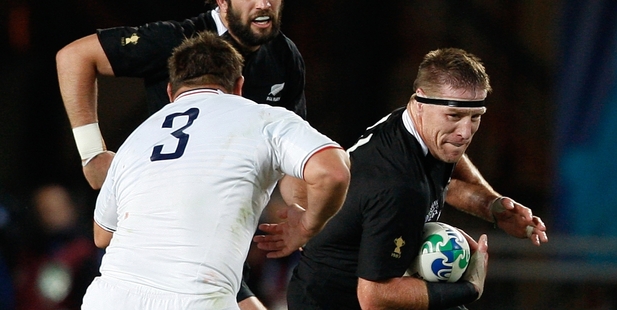 The price New Zealand broadcasters will pay to screen Rugby World Cup 2015 matches is tipped to hit record levels - but who will be paying it is far from clear.
All of the major players involved in broadcasting the 2011 cup have expressed interest in the 2015 event. But only pay TV operator Sky would confirm it had tabled a bid.
"We've put in a bid and we are waiting to hear," Sky chief executive John Fellet said. "We don't know where we stand."
The IRB's head of commercial, broadcast and marketing, Murray Barnett, indicated in September deals for the NZ and French television rights were close to being settled.
"It will be one of the largest deals we have done in those markets," Mr Barnett said.
French broadcaster TF1 was recently confirmed as the winner in that country in a deal believed to be worth 40 million ($65.7 million).
It appears likely the local rights will once again be split between free-to-air and pay TV.
The battle for 2011 free-to-air rights became intensely political after Maori TV used $3 million of Te Puni Kokiri money to outbid TVNZ.
The Government eventually stepped in, spending an additional $3.2 million to secure the rights for a syndicate that involved Maori TV, TVNZ and TV3.
TV3 has previously shown it is not afraid to spend big on the World Cup - the MediaWorks-owned network won sole broadcaster rights in 2007.
Spokeswoman Rachel Lorimer said the network was "always interested" in sporting events that would appeal to its audience.
"We have a really strong association [with RWC], both in 2007 where we were the New Zealand broadcaster and 2011 where we carried a lot of the games," she said.
The lead free-to-air broadcaster in 2011, Maori TV described RWC 2015 as one of a wide range of sporting opportunities it was considering.
TVNZ's spokeswoman Megan Richards said the state broadcaster was interested in securing "at least some of the available rights".
The emergence of a wildcard bidder such as Coliseum Sports Media, which broadcasts English Premier League soccer over the internet, appears unlikely.
The 2015 Rugby World Cup is predicted to be the most lucrative yet, eclipsing the record 121 million ($239 million) from France 2007 and the 92 million ($181 million) profit from New Zealand 2011.
"We believe that England will situate itself above 150 million," IRB chief executive Brett Gosper said.

2015 Cup battle
The deal
Global heavyweight IMG sells the rights on behalf of the International Rugby Board.
In 2011 the New Zealand rights were sold in two bundles - free-to-air and pay TV. Sky TV won the rights to produce and broadcast all 48 matches.
A syndicate involving Maori TV, TVNZ and TV 3 won rights to show live coverage of 16 main matches and delayed coverage of others.
The state of play
TVNZ, Maori TV, Sky TV, TV3 all report their interest in considering or securing rights for RWC 2015.
The internet broadcaster of English Premier League soccer appears unlikely to be a bidder.