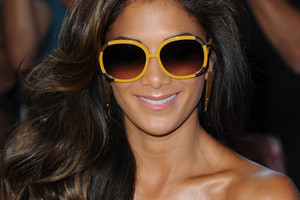 The UK version of The X-Factor has been criticised by fans for "shamelessly" plugging sponsors' products on last week's programme.
During the two-hour ITV talent show, contestants were repeatedly shown using Samsung products - and on another occasion, a TV catch-up service from another sponsor was featured.
The first sighting of an item provided by electronics giant Samsung came within minutes - when boy-band Rough Copy used what appeared to be one of its smart cameras to take pictures of themselves at a film premiere.
Soon afterwards singers Abi Alton and Luke Friend had photos taken with the brand's mobile phones. Other contestants were then shown using Samsung's tablet - including Nicholas McDonald, who made a video call to his mother, and Tamera Foster, who watched a video with mentor Nicole Scherzinger.
Boy-band Kingsland Road later reviewed their performance using the subscription-free TV service, YouView, from another show sponsor, TalkTalk.
Fans expressed their anger on Twitter. Aisha Mohammed wrote: "I hate X Factor for their shameless product placement."
And Phil Holmes said he had developed a new game counting how many times X Factor can shoehorn in Samsung products. Product placement has been allowed on UK TV programmes since February 2011.
But UK regulator Ofcom stipulates there must be "editorial justification" for a product - meaning content should not seem manipulated or distorted in order to include it.
An ITV spokesman said: "Editorial integrity is at the heart of what we do. Product placement on The X Factor complies with all regulations."
- Mail On Sunday