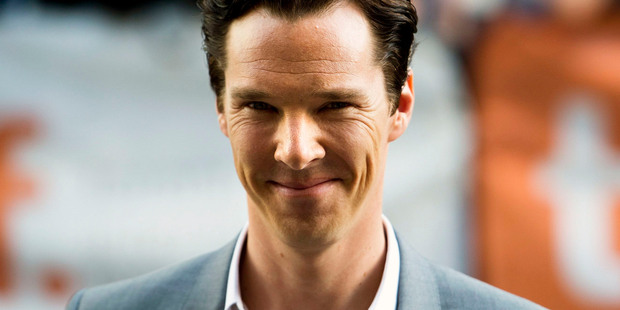 Cool your jets, CumberCollective and Star Wars fans.
Days after the internet blew a fuse over rampant rumours that Benedict Cumberbatch has landed a role in JJ Abrams' Star Wars sequel, the British actor has piped up to offer his take on the buzz.
Per a report published by Film Chronicles last week, Cumberbatch, 37, who worked with Abrams on Star Trek Into Darkness, will soon be the first name unveiled by Lucasfilm for the cast of Star Wars: Episode VII.
The report didn't cite any actual sources, and offered no details of Cumberbatch's supposed role. However, several other websites suggested that Cumberbatch is being eyed for the role of a new Sith Lord.
Speculation that Cumberbatch is supposedly signed up for the space opera intensified following news of his exit from director Guillermo Del Toro's Crimson Peak, which is set to start production in the UK in January of 2014 - around the same time as Episode VII.
But a rep for the Sherlock star put the kibosh on the speculation, telling the New York Daily News that there's "no truth" to the rumour.
"There is no truth to the rumour Benedict has been cast in Star Wars," noted the spokesperson.
"I think the rumours are circling because JJ and Benedict have just recently had a wonderful time working together on Star Trek."
And now the man himself has spoken out to tackle the rumours.
"Here's the deal, right. Here's the deal. No matter what anyone's said or is talking about....this is the simple truth," Cumberbatch told Access Hollywood at the 2013 Toronto Film Festival.
"JJ [Abrams] and I have worked together before. I would love to work with him again," explained the actor. "No offer has been made. And that's that. And that is that."
He added, "And it's not why I parted company from Guillermo on Crimson Peak. That was between me and Guillermo, and [for] completely different reasons - not because I was jumping for another job. So, I genuinely don't know. Everyone else seems to know.
"I get texts and emails saying 'congratulations'. I say, 'Well, what do you know that I don't know? Because I know the boss and he hasn't rung'. So, you know, nothing's been cast in that film, apart from, as we know, the return of players (Harrison Ford, Carrie Fisher and Mark Hamill) from the original film."
Check out Cumberbatch chatting to Access below (Star Wars talk kicks in at the 1min 40sec mark):
Britain's Telegraph also caught up with Cumberbatch at the Toronto Film Festival, and probed the star about the swirling Star Wars rumours.
"Of course I'd love to do Star Wars and work with JJ Abrams again because we had such a good time on Star Trek," he said. "But nobody has been cast and there are no offers out to anyone apart from the regulars who are returning. So that's that rumour quashed."
He added with a grin: "We'll have to wait and see."
Cumberbatch has previously said he is a massive Star Wars fan.
"I was much more connected to [Star Wars] as a kid, in the way that a lot of kids are because it's immediate storytelling, very simple - a beautifully, outrageously simple narrative in a way - and a wonderful three-act melodrama, opera. And I loved them. I really, really loved those films and I always wanted to be Han Solo. Everything Harrison Ford did I just thought was the coolest thing ever," he told Total Film.
During that confab, he also joked that he had asked Abrams to get him a role as a lightsaber.
"I've already asked him if I can be a lightsaber and we're in talks - about whirring sounds and the rates for the lights and everything."
Star Wars: Episode VII is set for release in 2015.
Stay tuned for updates.
NOTABLE NUGGETS
And finally ...
* Hold on, Victoria Beckham rides a bike? Well, she did up until last week, when some light-fingered so-and-so stole her two-wheeler in New York City. Taxi!
* It's official: Bruno Mars will perform at the 2014 Super Bowl half-time show.
* Listen: Coldplay preview new song Atlas from The Hunger Games: Catching Fire.
* Stop me if you've heard this one before: Liam Hemsworth wants to end things with Miley Cyrus? Regardless, our Miley's still having a ball.
*Hugh Hefner and his missus zoom about Disneyland on matching his and hers mobility scooters.
* Dennis Quaid and wife Kimberly's divorce has officially been dismissed.
* "A guy licked my face - straight up grabbed my head and licked my face" - Glee star Darren Criss shares an encounter with a hardcore Gleek.
* Former Lady Gaga, Beyoncé bodyguard dies after being tasered by cops.
* How very dare you: Simon Cowell slams rumours about his pregnant girlfriend Lauren Silverman, insisting she's not a gold-digger.
* "Wesley Snipes in a blonde wig would be more convincing" - Oh dear. Naomi Watts's Diana film savaged by British press.
- Rumour Has It