Ben Crawford goes back to the building site to see what's in store this year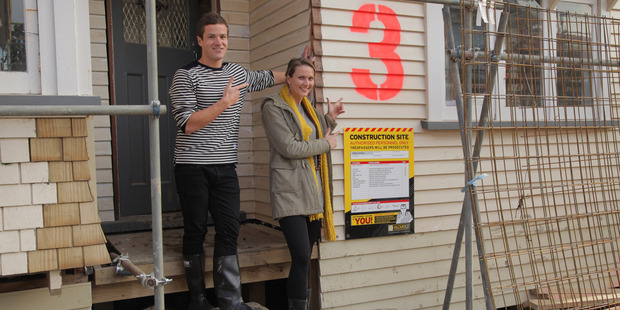 Christmas came early last year. In fact it arrived at about 9.30pm on September 6, when Libby and I won the first series of The Block NZ. It was the pinnacle of an incredible journey and a life changing one at that.
Looking back, I'm not sure how we did it. Continually fighting against the clock, living in knee-deep mud, contending with the constant unknown and battling severe sleep deprivation - every high and every low captured on film. But we did it and I've always said I'd do it again in a heartbeat.
However I'm having second thoughts as Libby and I walk back on to the set of The Block NZ to check out the four new houses and meet the four new teams for season two.
Casting my eyes across the Takapuna site for the first time, I'm perfectly content to be an observer this year, to be one of the ones looking in. The ones in the shiny new gumboots. The ones who have just come from the warm cafe around the corner. And the ones holding the contestants up from doing what they have to do. God we hated those people a year ago, but right now it feels great to be one of those people.
Because there's so much work to be done this year, significantly more than we had to do. Just like season one, there are four houses in varying states of disrepair - if in fact you can call them houses. given one doesn't have a roof and another appears to be cut in half. And they're all massive, way bigger than our little state houses were.
Whereas our places were almost identical, set out side-by-side along Anzac St, this year they're positioned in a private mews-like setting, each property totally different in style. There's a heritage villa, a couple of bungalows and a brick-clad shell.
Though I'm glad I don't have to do the work, I'm just a little jealous of the teams this year. There's significantly more scope to be creative and the elevated residential location provides greater privacy. I can already tell the finished homes will be superior to ours, each property a masterpiece of individual style.
Instead of just standing around, getting increasingly jealous, we had a bit of a nosey, checking out each property and meeting the teams. Here's what we found.
The houses
House 1: Relocated villa
House One won't be the first choice for any of the teams because it's literally cut in half. There's a veranda and two rooms at the front then nothing except a huge hole at the rear.
Though intimidating, there's plenty of potential. I'd extend upwards to maximise the elevated section and gain some sea views. Located on the Eversleigh Rd side, it's the closest property to cafe Little & Friday, surely a selling point for brunch fanatics come auction day.
It's going to be challenging to blend the villa features of the existing structure into the new extension since it'll make up such a small percentage of the final home.
House 2: Original bungalow
House Two is the site's original home and it's full of character, with stained-glass windows, high ceilings and native timber galore. At 200sq m it's the biggest existing structure so there'll be no extensions required on this one. But it's also the least private, situated on the busy corner of Lake Rd and Eversleigh Rd.
Whoever chooses this house has a huge job ahead if they want to preserve its period features. Stripping back sash windows and panelled doors is a time- consuming monster I wouldn't wish on my worst enemy but it'll save the team money in the long run and ensure authenticity in the finished home.
The biggest challenge will be catering for the likely buyer by modernising the home, yet keeping its character intact.
House 3: Relocated bungalow
What a dump. Like House One, it has been relocated on site. There's a chunk missing at the rear but three-quarters of the original structure is still standing, riddled with dingy corridors and pokey rooms in varying shades of brown.
Set back in the far corner with no street frontage, it's the most private of all the houses. A big tick if you enjoy walking around your home in varying states of undress. I'd be inclined to extend upwards as much as possible to gain elevation and water views. I can see the potential here and I'm sure the teams will too. Their main challenge will be opening the existing structure up, then combining a modern extension with the bungalow features.
House 4: Crappy brick box
I pity the poor team that has to live in House Four from day one, because it doesn't even have a roof. It's the only non-character house on site, providing plenty of scope to create a modern home without having to incorporate any existing features.
At the front it has a mature garden full of cabbage trees and nikau palms. This is going to be a massive asset come front yard week, budget wise, but also on auction night. It'll be interesting to see how the team working on House Four creates a modern home alongside the three other character ones. Do they soften their design down a tad to be sympathetic to the neighbouring structures or do they say "to hell with that" and create a glistening example of contemporary architecture?
The house I'd choose
I'm not into character homes. I love glass, strong lines and a contemporary style. House Four provides the most potential to do this. It's going to be easier to renovate because there's no need to restore existing features like moulded ceilings and sash windows or worry about blending styles together.
The teams
Loz (29) & Tom (31) from Nelson
Husband and wife Loz and Tom are the oldest on The Block NZ but they'll need all the wisdom and foresight that age brings given they have the least DIY experience. Tom's done a bit of tinkering, but Loz is a complete greenhorn.
Despite their lack of expertise, they're a solid couple from the Mainland and I think they'll get the job done through sheer determination and hard work.
There's no room for a bad couple of weeks to begin with in this intensely competitive environment, so they'd better be fast learners.
Watch out for these guys, they could be the dark horses this year.
Pete (26) & Andy (23) from South Otago
Brothers Pete and Andy are a couple of hard cases, more suited to mustering sheep on their family farm than living in Auckland. But while they're a little rural, those men-of-the-land qualities will make them hard to beat when it comes to construction and solving problems on the fly. Plus there's the sibling combination, which treated Libby and me so well last year.
There's a possibility they'll struggle on the aesthetic side of things though - designing a home that will appeal to an urban Auckland buyer. I'm not sure rustic country will go down too well.
Don't get me wrong, these two are up for the challenge and combined with their witty one-liners, they're going to make entertaining viewing.
Caleb (26) & Alice (26) from Auckland
On paper, Alice and Caleb have The Block NZ in the bag. The married pair have already done up three homes in Auckland, recently completing their own character bungalow renovation, making them the most experienced of the four teams.
They're a great couple, oozing confidence and energy, especially Alice's infectious bubbliness. I wonder whether this confidence and experience will work against them.
Though it's not a popularity contest, they'll need to be careful as I can see the other teams voting strategically against them if they feel too threatened.
If Alice and Caleb are able to downplay their experience from the start, they're odds- on favourites for the win.
Alisa (23) & Koan (25) from Auckland
Despite being the youngest team on The Block NZ, Alisa and Koan already own a home in Mt Wellington and have been renovating it for the past six months.
You can tell Alisa works in PR. She's very bubbly and confident, doing the majority of the talking, whereas Koan is a man of few words, but could well be a silent assassin given his welding background. I get a sense that Alisa could become overwhelmed by the enormity of the challenge and if I were a betting man, my money would be on her for a few tears early on, but I hope I'm wrong.
After meeting the teams and seeing the potential of the houses, I'm sure we're going to witness the creation of four spectacular homes over ten compelling weeks during Season Two of The Block NZ. I can't wait to see the transformations, especially since I'll be watching from the comfort of my living room this year.


• The Block NZ season two premieres on TV3 at 7.30pm, Monday, August 26. It will screen at 7.30pm Mon/Tues/Wed for 10 weeks, culminating in a live auction final.