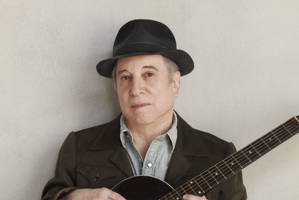 I was lucky enough to spend last weekend in Perth, interviewing Paul Simon, and watching him perform at the West Coast Blues 'n' Roots Festival.
As a lifelong fan of Simon, whose earliest musical memories involve watching the 1987 Graceland concert in Zimbabwe on videotape over and over, or teaching primary school classmates to sing El Condor Pasa, it was a slightly surreal experience. To be honest, I think I'm still processing it .
Meeting Simon got me thinking about ageing rockers though, and their place in the world of touring. At 71, he's aged well, is comfortable in his skin, and his eyes still sparkle just the same. But it's how he performs that impresses most - his shows are a dignified reflection of his life on stage while still being lively, and because he's still actively writing great new songs, more than just a tribute to the past.
There were a bunch of other elder statesmen at the West Coast Festival, some of whom have visited or will be visiting our shores soon, and the average age of the line-up made me stop and ponder - what separates the acts who manage to make their age and experience an asset rather than a hindrance and still put on a worthy show?
Sixty-four-year-old Robert Plant for example, who was headlining the mainstage on the Saturday evening, is much like Simon. He still has talent in spades - recording new (and still very good) albums with frequency, happy to experiment, but also with an arsenal of hits that sound just as good now as they did several decades back. In Plant's case, those hits have been given a good old twist for his shows with the Sensational Shapeshifters (think unusual African string instruments like a riti, and a kologo), but fans can expect to hear a good number of Led Zeppelin tracks. As he explained to TimeOut earlier this year: "It's like a sort of West African juggernaut where Led Zeppelin finally go on holiday to Africa. It will be as exciting as you want it to be. But one thing is for sure, it is relentless and it won't be polite."
Indeed, his set was a scorching, mesmerising, highly entertaining 90 minutes, with Plant's voice displaying no sign of wearing thin. In fact, with a few sly jokes scattered throughout, and dressed tastefully in black top and black jeans, he reminded me of a musical Billy Connolly - as full of beans now as he was 30 years ago, and clever as hell.
At the other end of the scale is Iggy Pop. No one seems to have had the chat about aging gracefully with him. It'd be nice to think we could blame his inability to find a shirt on lost luggage, but we all know about Iggy's penchant for showing off his 65-year-old chest. And though it's good to know he's still got the energy to perform, watching someone who's eligible for a Gold Card showing off how much he goes to the gym is, frankly, a bit off-putting. It's about time for some reinvention and reconsideration of what he can offer as a musician.
To be fair though, Iggy is something of an anomaly.
Also at the festival were older acts like Bonnie Raitt, and Santana, both of whom tastefully rocked the park, acted their age, and proved that their new material is as good as their old.
If they can avoid simply delivering bland, indulgent renditions of songs past, or going through the motions, and continue to push their own boundaries, then I'm more than happy for our musical heroes of decades past to keep selling tickets, and to be called rock stars.
- TimeOut